Spring Track Update: Ram Runners Start off Season Red Hot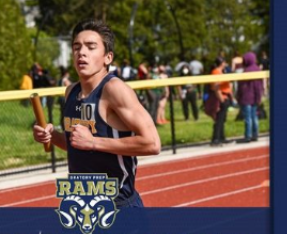 (All images courtesy of @opxc.tf)
Between the days of April 2nd and April 11th, Oratory Track and Field has been on fire. OPTF kicked off their season at the famous Summit Relays, a meet that Coach Seebode himself competed at as a freshman at Union Catholic. The Rams traveled less than 0.3 of a mile down the road to Tatlock, asserting dominance that would prove them to be a top 4 program in Summit. The meet was highlighted by the impressive 4×800 – a relay consisting of Tommy Hunt, Ciaran Bowler, Declan Kelly, and Jake McChesney. Hunt got the team out to a good position, running a 2:09.65 before passing the baton to last year's conference champ in the 800 meters. Ciaran Bowler would prove why he is the defending champ, opening up his Spring Track Season with a 2:05.3 800 meter, which is especially impressive when taking into account that this was his first race back from an injury that kept him out for 3 weeks. The third leg was run by freshman Declan Kelly, who would open up his varsity spring track career with a 2:13.5, that being over 4 seconds faster than the freshman year time of Union County Conference Champion: Ciaran Bowler. Kelly is once again showing us the valuable assets the freshman class has provided, as shown in varsity sports this year by freshman athletes such as soccer's Max Cook and Brody Henderson, lacrosse's Andy Nappi, baseball's Joe Loiacono, swimming's Charlie Kline, and of course, basketball's Asher Bradley.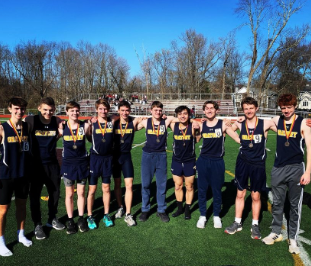 Along with the 4×800, the freshman/sophomore 4×400 meter relay also placed in medal position at the Summit Relays. This team consisted of CJ Tovar, Declan Kelly, Tommy Hunt, and Seamus Vail. Tovar and Kelly got the team into a fair position before Hunt and Vail moved the team up – Seamus Vail ran a 54.68, asserting the team as medalist. Other notable performances include Ciaran Bowler running 53.51, Sebastian Murray running 57.8, Patrick Feit running 58.94 in the 400 meters, and freshman Aidan Wizeman hitting 2:35 in the 800m. Aidan Murphy (104-1) and James Martin (85-07) also had personal best in the discus.


The momentum from the first meet continued into the Dodgertown Relays on April 9th in Madison. Despite the cold and wet conditions, the Rams were able to persevere and run some very impressive times. The Boys Distance Medley Relay team of Ciaran Bowler, Seamus Vail, Declan Kelly, and Tommy Hunt had a stellar performance, placing 3rd in the event. Bowler kicked off the performance with a season record in the 1200 meter, running 3:22.2, with sub 70 second splits for all 3 laps. He then handed off the baton to sophomore Seamus Vail who did exactly what he needed to do, running a 55.0 for his one-lap event. Declan Kelly then had a 2.7-second personal best in the 800 meters after being passed the baton before handing it to Tommy Hunt. Hunt was given the stick for the 1600-meter anchor leg with some elite company just behind him. Through the first lap, Hunt had managed to hold off Colin Riley from Dayton (last year's 7th ranked mile runner in the state), but Riley soon passed Hunt. In the final lap, Hunt was able to drop a 64.7, which would have kicked almost anyone who was not named Colin Riley. Nevertheless, Hunt still ran a personal best of 4:38.8 which would currently be the #5 sophomore time in New Jersey, but, more importantly, helped the DMR to a medal. The varsity 4×200 of juniors Stephen Tuite, Patrick Feit, Michael Kupetz, and sophomore Seamus Vail also had a very impressive day, in which all 4 runners ran a personal best. This is almost unheard of but happened in the relay that Seamus Vail capped off with a 24.2 second time – despite having to run his way through one of another team's throwers who had illegally stepped on the track. There were also multiple noteworthy performances outside of the track, including the performance of Gabe Costa jumping 35-8 in the triple jump, as well as Connor McDermott, RJ Parks, and Georgii Vorbev throwing personal best in the javelin (Georgii throwing 101-1).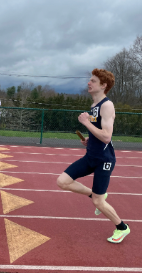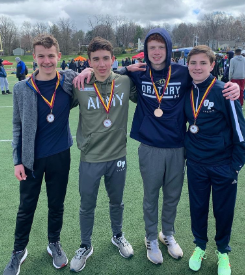 Two days later, the Rams would head to their first non-invitational relay meet. It was on April 11th that the Rams would completely dismantle conference opponents ALJ and Roselle Park. The day started with juniors Stephen Tuite and Patrick Feit going 1-2 in the 400 hurdles, with Stephen running the current conference #1 time of 67.6 and upsetting a 2021 400H medalist, Patrick Feit. In the next event, Seamus Vail ran a personal best of 11.8 seconds 100 meters to take first place, breaking 12 seconds for the first time. The 3rd event was the 1600 meter and sophomore Tommy Hunt and Senior Ciaran Bowler would have been far ahead of the pack had their approach to this race been different. Instead of the two running all out, they would instead pace Declan Kelly to break 5 minutes in the mile for the first time. Hunt and Bowler, being veterans of the sport, were able to set a perfect pace for Kelly through 3 laps, before opening up for a fast last lap. Hunt would go on to win the mile in 4:56.4, with Bowler just behind in 4:56.5. The real winner, however, was Declan Kelly, who ran a 4:56.8. This was a 13-second personal best for Declan, who became the 3rd active runner on the roster to be under 5 minutes in the mile. These three runners are hopeful to sweep the podium at conferences and go 1st, 2nd, and 3rd in the 1600 meter. The winning continued to the last event which was the 4×400 meter. To make things interesting, Oratory created both distance and sprints 4×400 meter teams. The sprints 4×400 roster consisted of – in this order – Stephen Tuite, CJ Tovar, Sebastian Murray, and Seamus Vail. The distance team that was taking on the sprinters in a sprinting event was made up of Declan Kelly, Tommy Hunt, Jake McChesney, and Ciaran Bowler. Through the first leg, Roselle Park handed off the lead, with Tuite of OP Sprints just behind in second, and Declan Kelly of OP distance in third. However, when the batons were passed, this order quickly changed as Hunt of OP distance passed both teams and formed a considerable gap between him and the rest of the competition. Hunt handed off first and CJ Tovar maintained 2nd place for OP Sprints, but 3rd leg Jake McChesney took the lead and expanded upon it, making the distance between him and Sebastian Murray a considerable gap at the handoff. Bowler brought OP distance home in first, with Seamus Vail of OP Sprints about 80 meters back in second.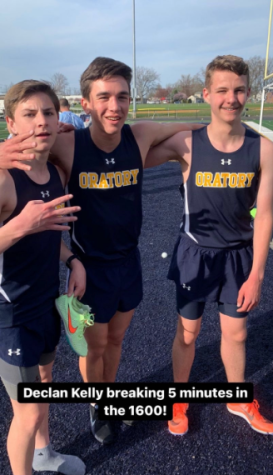 These performances over the course of the early season are exactly what will make your Oratory Prep Rams champions at the Union County Conference Championships on May 12th through 13th; you can Joe Namath me on that.
Leave a Comment