WrestleMania 38 Main Event Review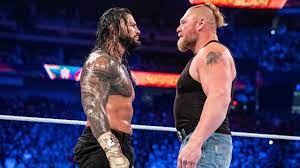 For the third time in its history, WWE's biggest pay-per-view, WrestleMania, was headlined by Roman Reigns and Brock Lesnar. After a star-studded show and, in my opinion, the best WrestleMania since 2019, the main event was supposed to be the best match, the cherry topper. The match, though, didn't live up to the hype like it was supposed to.
This new rivalry between the "Tribal Chief" Roman Reigns and "The Beast" Brock Lesnar has been going on for months and months. Paul Heyman, the center-piece of the rivalry, turned on Brock Lesnar, to become the advocate for Roman Reigns. Reigns went into the main event as the longest-reigning Universal Champion, beating the record of, you guessed it, Brock Lesnar. Brock Lesnar didn't enter the match without gold himself, walking in as the reigning WWE World-Heavyweight Champion. The stakes were big as it was a winner-take-all to become the Undisputed WWE Champion!
It felt like a big match. It had the making of a big match. It seemed like it was the match everyone was there for. It just wasn't that good in the end. The actual contest seemed to be rushed, with finisher after finisher being hit right away, instead of actual normal moves leading up to the then finisher. Reigns hit like 20 spears (his finishing move) on Lesnar without succession. Usually, the main event of WrestleMania would be about 20-30 minutes with many suspenseful moments, along with many drama-filled kick outs, but this one lasted just 10 minutes. It ended in an abrupt manner after Lesnar had Reigns in a submission lock, but Reigns would reach the rope (after some help from Heyman) to break the hold. Reigns would then get up miraculously after seemingly being injured, and hit one last spear to the ribs of Lesnar. 1… 2… 3… aaand Roman Reigns became the new Undisputed WWE Champion!
In all honesty, I was expecting another kick out. It was very surprising for me, to see the match finish that way and could be a reason why I didn't enjoy it so much. I'm not sure if an injury to Roman Reigns may be the reason why the match ended so quickly, but I hope to never see this match in the main event of WrestleMania again; even if it's a match between two premier wrestlers. 
Overall Match Rating: 6/10