World's Fair: International Club's Chaotic Success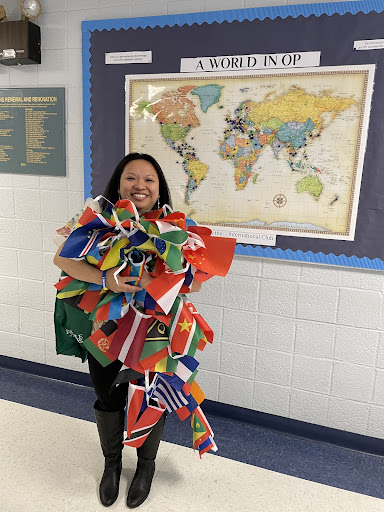 An unfamiliar sight for an Oratory Prep morning: flags, tri-folds, and food-adorned festive tables in Bain as volunteers industriously set up. Soon, it was time—OP's first-ever International Club World's Fair began. As visitors began to stroll about the gym, nobody really knew what to expect, not even the organizers. This was the first World's Fair, after all, and how the event would actually go was uncharted territory. Mrs. Clark, our AP Lit teacher and one of OP's finest, had devoted herself and the International Club towards planning for about a few months, and it was finally time to see if the fruits of their labor paid off.
The World's Fair was nothing if not extraordinarily busy. The prospect of time out of class was of course attractive to many, but I personally saw few students wandering aimlessly. Engagement levels were very high, and there's quantifiable evidence to support this—according to Xander Misrahi's rough count of raffle tickets, the tables collectively gave out over a thousand. Since tables mostly only gave away tickets when people engaged (albeit with different selective standards), this meant a lot of people left the World's Fair knowing something they didn't, or at the very least having spent their time there well.
Whether it was food, props, conversation, or something else entirely, every table sported multiple interesting options for curious visitors. For a lot of World's Fair participants, their favorite part of running a booth was the conversations that occurred, be it somebody getting more in touch with their heritage or somebody learning something new about a country they may never go to. That's not to say the food wasn't awesome, either—at least at my table, I ran out of candy to give away almost immediately. Other tables were stricter, but given other tables' free samples and the food from winning a raffle, plenty of people earned a bite to eat.
Sure, the road was not always smooth. The fair ended up being "controlled chaos". This of course carries the benefit of people being a lot more spontaneous and engaging, but with it comes problems of scale, and issues like the confusion over tickets are exacerbated. Still, looking at all that, this International Club World's Fair was ultimately a roaring success. The World's Fair is the first event in many years that was both largely-student run and involved the entire school, as most events are either mostly faculty-run or are more limited. By going remarkably smoothly for an event with so many moving parts, the World's Fair has hopefully paved the way for more events like it in the future from other clubs! And the odds are heavily in favor of the event happening again next year. So, while I and the rest of my senior class won't be here, make sure to enjoy it, underclassmen! It is a one-of-its-kind experience here at Oratory, especially to help run it. Make sure to participate, whether you're one of the lovely people manning a table or just to enjoy some time off from the in-class grind.