Membean Mystery?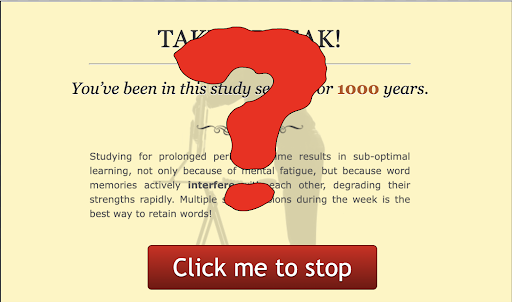 What if I told you everything you know about Membean is a lie? You would probably think I'm crazy and not believe me. This would be an accurate assumption because I am a little crazy and Membean is full of truth, however, there are certain aspects of Membean in the dark and I intend to bring them into the light.
Over a decade ago Ragav Satish founded Membean with the intention of helping students diversify their vocabularies. A few years later Oratory students were doing "quick fivers" on their "machines" before every English class. Membean has brought a deluge of knowledge to OP students since it was introduced to the curriculum, but one of its facets has brought perhaps even more confusion: the "take a break" screen. When immersing oneself in a Membean session one must choose a length ranging from five minutes to sixty minutes, with the time amount growing linearly by 5 in between. Once a student has completed the allotted time for their session a screen pops up that says "Take a Break", lists how long you have been studying for, and provides the "Click me to stop" button. Behind all of this, there is some sort of image. This image (below) has long brought dumbfoundedness to the students of Oratory.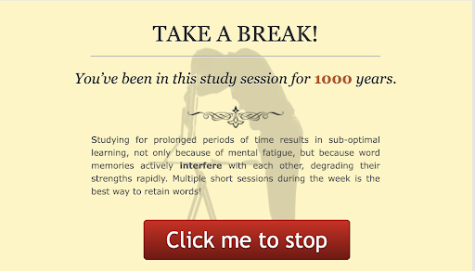 At first glance it appears to be the silhouette of a wig or toupee, then a mutated penguin, and finally a coffin. The longer it's looked at the harder it is to comprehend what you're looking at. For the hundreds if not thousands of students looking to understand this image look no further. Through a series of intense scientific testing and many sleepless nights, I have figured it out. In order to understand the one image, you must see the story of its three figures. If the image below is divided in half the once amorphous blob begins to tell a story: one of a child struggling to complete his hour Membean requirement in one night. The image is just that, the silhouette of a child leaning on the silhouette of his computer which is on top of the silhouette of the aforementioned child's desk. You're welcome.