JV Championship Game/Recap of the Season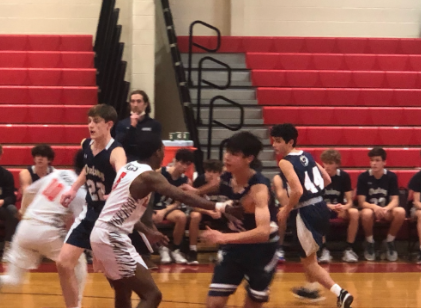 The JV season has been filled with many ups and downs. For most of the season, these future varsity stars would win most games and fight hard to come back. Coming into the season, these groups of young men were very under-looked. They started off strong and got stronger along the way with the additions of Max Cook and John Pirone. These guys would never get blown out and only be in very close games including several overtime thrillers. The Rams, led by Coach Moiuo, would finish the season 12-7 before the Union County Championship game. Here's how the game went down.
The Rams would visit Rahway Highschool in the Union County Championship against #2 seed Roselle Catholic. These guys would be in a tough matchup, but would easily win by knocking off the #1 seed Linden. Throughout the game, the Rams would be down 17-5 at halftime and it would look like these Rams would get a ride home a little earlier than expected. They would then fight back with the help of Max Ince's three three-pointers and would tie the game late in the fourth quarter 42-42. Despite the high effort in the Rams comeback, it would fall short resulting in a Roselle Catholic buzzer-beater. Despite the loss, it would still be a good season.
The JV would finish the season 12-8 which was way better than people expected. Throughout the season, Coach Moiuo would really prove himself and would look like he could be the coach next year. These guys were very hard to beat this year and will be in years to come. Great season, and good luck next year!