Handball Power Rankings
1. 208
If I had one word to describe this team, it would have to be "dominant". This gang is dominant in everything they do. Pat Feit is dominant in his LLS fundraising, Brandon Franks is dominant in his running of the PB&J drive, Pat O'Neil is dominant in his doing of the calc homework, and Mr. McCrystal is dominant in everything he does (especially growing facial hair). History is on their side and if the tournament is determined based on best beard, then here are your champions.
2. Meatball Subs
What better than a sloppy meatball sub? The Answer…. Nothing. SVH is certainly going to put on a show, maybe using his ancient Greek plaque. Thanks to Mr.Barresi's transitive property, we then know since a=b and b=c,  a=c, meaning this team will be unstoppable on the handball courts, and they will not stop until every team has had a taste of them.  
3. Cous Cous & Friends
Call this team the Applebee's nacho platter because they are loaded. Nico Marchisio is going to use Mr. B's soccer coaching to obliterate his competitors while Joey Cats has threatened to brandish his 6-iron on the court if anyone tries any funny business with his team. AVH is still out for blood from his shocking 3v3 basketball defeat and he says "nothing will stand in my way, not even an infant child." As long as Andres can stay awake– unlike in his calc class– this team is most definitely going far.
4. Heavenly 7
This team has been referred to as the reincarnation of the 1992 US Olympic Dream Team due to their all-around talent. Simon Valverde and Charlie Saunders are the ultimate goon squad, while Ryan Santoriello is going to use surgical-like precision to slice up the competition. This is rare that teams of freshmen make it far when there is the possibility of playing upperclassman but if I had to put my money on a team of underclassmen to win it all, these are them.
5. TheOddOnesOut
Despite being the "OddOnesOut" these men have a good chance in this tournament. With Ethan Gun heading this team, the other squads should be scared as he can be compared to Michael Jordan with his hops. Don't get me started on Philip Soliman. One minute you are guarding him, the next he scored a goal, went to college, married, had kids, funded his 401k, and is telling his Grandchildren a story about how he schooled your team in handball.  
6. The Bigger Picture
There are billions of galaxies, even more stars, and even more planets. The Bigger Picture is a contingent of galactic superstars known to run the handball courts from Titan, Jupiter's moon, to the Kuiper Belt. Laurent Antonie was tired of running the courts on Hayley's comet where he went undefeated in handball. Brandon Material is supposedly a Martian with a death beam pointed at Earth which he plans to shoot if there is no good competition on Earth. Those two are the only extraterrestrials on the team but Kingsley Okeke from Earth is known to body anyone he comes against. In gym football, he is like Gandalf because on the O-Line "YOU SHALL NOT PASS." Any team coming against this one better look at the Bigger Picture and just withdraw because they will get smacked so hard it could be comparable to having a Black Bean Chalupa Supreme from Taco Bell at 2 AM and having to deal with what comes after.  
7. Tovar Toes Deluxe 
The Tovar Toes Deluxe will definitely go to town on the other teams. The main dog on this team is Aryan Sabnekar. He will be on lock-in between the posts not letting a single ball fly past him. Alongside him is Dean Webber. If you are going up against the Tovar Toes Deluxe, be sure to keep hold of your toes because before you know these dogs will take them.
8. Gap Years
This team of seniors was so sure of themselves taking home the title that they promised to reclass as 5th-year seniors if they do not. Two of OP Puck's senior leaders, Tyler Gobel and Matt Clark, are sure to go full tilt full time. Matt Clark is also notorious for being dominant on the ball and racquet courts crushing any man, woman, or child foolish enough to get in his way. Paired with OP bowling superstar Josh Costello and Ram baseball's own Jack Stickler, this team surely knows how to chuck some handballs. In addition, if Aiden Reed's handball ability is anywhere near as good as his ultimate frisbee abilities or his Instagram comment chirps, then this team is good to go.
9. Will Olohan
If this team is not afraid of having their name banned, it means they will be scary on the courts. Mike Pirone, Greg Jones, and Christian Simms will undoubtedly lead this team in the same way they do varsity hoops and if Nick Scantleberry comes to play this team should strike fear in the hearts of their enemies 
10. Latin Bistro 
Latin Bistro is a group of dangerously handsome men. "Big Fat" Matt DeAngelis is known for his intelligence in calc class doing complex derivatives in his head with everyone in his class in awe, and, according to his calculations, his team has already won. Alex Han is one of the most dangerous gym lads on the team and has been seen benching 315 for five reps. Gerard is known for his dashing looks, which will be sure to confuse his opponents allowing him to dismantle the other teams. Kieran Donnelly is a master craftsman who– with the help of Bang Energy– will build a wall in minutes to defend his goal. Overall if you are facing these men, be afraid.  
11. Doritos Representatives
This team has several things going for them. For one thing, it appears that they have some sort of affiliation with Doritos, a brand of Frito-Lays, which could make them some serious Wall Street fat cats. They also appear to have acquired Mets pitcher Trevor Williams, who is sure to be packing heat. Along with two of OP Puck's finest goaltenders and one set of twins, this team might blow some Doritos dust into the eyes of the competition and take home some hardware.
12. Dusty
As their name implies this time is "dusty." As Mrs.Gribbin says, there is nothing worse than a team named Dusty. There is so little to talk about besides the name that we just know they will not pass the first round. Pat Conniff and Kevin Parker give this team some chance of redemption for their name, as they are both Russian-bred athletes probably on steroids. There are rumors that Pat Conniff and Kevin Parker are taking the same steroids that Kamila Valieva used to win her Olympic gold medals. I also heard Greco is a Bama commit for pitching so everyone better keep a close eye on that cannon hanging off his body.
13. Arnav X
Easily the best team in the tournament with big hitters like Garrett Hall aka the Red Mamba who is known to show no mercy on or off the court; BK and Big Robby G have pitcher arms which they use to whip balls at opposing goalkeepers. Angus Kupinas is a legendary soccer player who should not be underestimated on the handball courts And Bruzzese……. Bruzzese is a dawggggggg.  Some rumors have surfaced recently that people are unhappy with the leadership on this team and there might be some requests for trades. 
14. Henchmen
In any good story, the villain needs a good henchman. The only question is this team more like Oddjob or random task? Henchmen is stacked with the 18-year-old 8th grader Sal Garcia who is known to take command of the courts. Whether it comes to handball, basketball, football, he is the man you want on your team. Mr.Blauner once saw Sal Garcia do a 360 windmill dunk in the DeGaeta gym just because he was bored. Another star on this team is Ben Gaffney, who could be arguably the most dangerous athlete this school has seen. Off the court he only watches Sigma males like Patrick Bateman and models his character after these men; he has even been called a yogurt male, and he is known to scare teachers with his cold gaze. Any opponent going up against Ben better be ready to face off against a yogurt male. A photo of Ben Gaffney is attached below.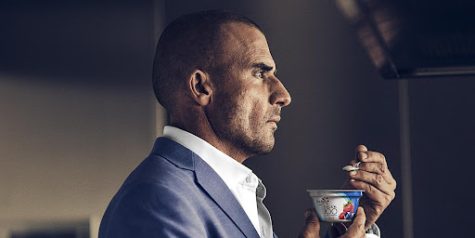 15. The Kremlin
Has Putin infiltrated America? Are they Russian spies? What we do know is that this team has been sent directly from the Kremlin to win this tournament. With Putin's most recent invasion into Ukraine, I am sure this team with try to invade the championships as well. Nico and Kevin are a dynamic one-two punch on offense while Anthony Bibbo is a beast in the backcourt. We will not be making any other jokes about this team because we do not want to be assassinated by Big-Hairy-Boy Vladamir.  
16. K-Train's Pancake House 
Absolutely abysmal. This team is arguably the worst in the entire bracket. The offense consists of Alex Fudenna, Jack Cuddihy, and Ethan Fernandez all of whom are subpar athletes. I once heard that Jack Cuddihy lost in an arm-wrestling match to Arnav Chahal. Ethan Fernandez is also known for being unable to touch the net on a basketball hoop, and Alex Fudenna is just not a dog.  Arguably the worst part about this team is they no longer have Jack Callandriello; he is the most dangerous handball player out there, known to throw at 95 miles per hour. The best part about this team is Mr. Kaounis.  In goal, Mr. K is unstoppable, and under his tutelage, this team might just make it past the first round. They do have two basketball D1 commits in Tommy Conniff and Alex Werbaneth, going to Lehigh and Duke respectively. Werbs is known to be wet when he takes threes and Tommy can dunk on occasion, but on the handball courts, Mr. Kaounis is their captain.  
17. Polish Punishers 
Hailing from the nation separating Germany from Russia, the Polish Punishers are used to war.  Unfortunately for them, they failed to pick up the greatest Polish handball player at the school, Mrs. Monzcha, so this team can't be ranked too high. That being said, they do match up well against the Kremlin, ever since Reagan took down the Berlin wall.  "Thanks, America."  "You're welcome Poland."  Consisting of Nicky "Bank is open" Servitto and John "Droppin' 3's" Pirone, this team is stacked with JV hoops talent. If they play similarly to how they have in the JV Union County Tournament this team, is a shoo-in for the finals.
18. Membean Menaces
The Membean menaces are a team of youngsters who are not expected to win a single game, but upsets do happen. This team is mainly composed of members of Seamus Vail's Fortnite "Stinky" Clan so beware as they may crank 90s on you in a box fight. If they have been cranking out enough of Mr. Kearn's Membean fivers, they might be able to beat some top dogs. After all, they are called the Membean Menaces, so what do they fear? They probably don't fear death or taxes, but more reasonably Mr. Kearns when they forget to do their Membean minutes. Let's just hope no one asks Andrew Temo to chip a puck off the glass.
19. The Gladiators
I believe this team has been sent straight from ancient Rome through a time machine in order to compete in this handball tournament. With Alex Martini on the court, there is a guarantee for blood to be shed (from his victims). Declan Kelly is looking to prove he is the greater of the Kelly brothers. Watch out as this team turns the Bain Gym into a gladiatorial arena.
20. Elite Eight
The Elite Eight consists of a team of legends similar to that of the '17 Warriors team. Brody Henderson is Steph Curry and, let me tell you, his curry is spicy. George Fagan is KD and his shot is absolutely wet. Max Cook is like Iguodala because when the Martians have the death beam pointed at Earth, you want Max on the line taking the shot because he is a dog. Joe Loiacano is an Italian stallion who will stun the other team with his mozzarella (mots-a-rella) and prosciutto (pro-shoot-toe). This team will be stars on the courts so when you face them, look out.  
21. The Roundmen 
This team is named after its founder and captain, Kieran "Klombo" Bergin. They do however also have the stick man, Gus "Apple Jacks" Russo, on their team.  These two will put their geometry knowledge to work alongside Colin "The Better Fernandez" Fernandez they are definitely going to have some good plays drawn up. There have been legends that Colin Fernandez is so jacked that he once downed 4 protein shakes before going to deadlift a Ford F-150. Alongside two of OP Puck's finest juniors, Blaine Chestnut and Mark Jacobello, Mr. McGowan best have an ambulance on speed dial (for other teams because these boys will get down and dirty).
22. Gary's team
Gary's team is filled with two all-stars including hockey jock Niles, known to bully people on and off the courts. Then you have the baseball pitcher Chubs, or Callandrell,o who was unjustly cut from the baseball team for unknown reasons and is known to be a wet three-point shooter. TJ and Connor Sensneich are known to be atrocious on the handball courts. I only hope that Chubs and Niles will be able to put this team on their back and carry them to the promised land like Moses led the Jews in the Old Testament.