Winter Track Update: Hunt and O'Dowd Break School Records!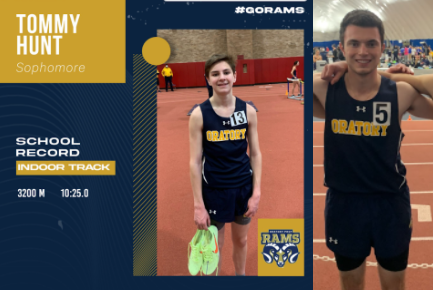 In the absence of the injured Union County Conference Champion Ciaran Bowler, Oratory's winter track team has had to rely on big performances from other faces. Among these Rams who have risen to the occasion, two of them stood out in a way that few Oratory students have. These two runners are Tommy Hunt (Sophomore) and Evan O'Dowd (Senior/Co-Captain). The reasoning behind these Rams standing out in a way few have is because each of them has set the school record in their respective events. 
Evan's School Record:
Over the past 4 years, Evan has had a strong presence within OP athletics – whether on the diamond or the track. However, he did something on February 5, 2022, which outweighed all of his other athletic achievements at OP: he set the school record in the 300m. Even more impressive is the fact that Evan's season debut in the 300 was on the same day that he set the record of 38.7 seconds. Evan has gained superior strength for the 300m as he has been running the 400 meters all season as his primary race, while also developing great flat speed from his secondary race going into the meet, which was the 200 meter. The NJCTC race, held at the world-class facility of Ocean Breeze, was O'Dowd's first opportunity to run the 300 meters, but he was able to blend together the strength and speed from the 400 and 200 meters, making him a sprinting hybrid destined to set the school record. Congrats Evan.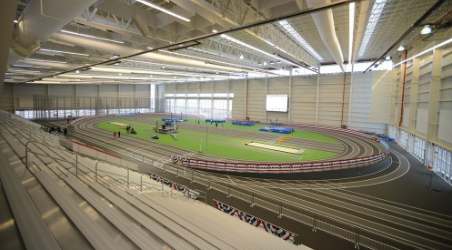 Tommy's School Record: 
Just a week before O'Dowd ran his miraculous 300 meter, Hunt was able to carve out a piece of history for himself in the 3200 meters (2 miles). He did this by running his breakout race at the Union County Relays, held at the Jersey Armory. Hunt's breakout race resulted in the indoor school record of 10:25.04 for the 2-mile race. Unlike the rest of the field, Hunt ran an incredibly consistent race, going out in 5:13 for the first mile, and closing in 5:12. Hunt's splits are as follows: 37, 39 (1:16), 39 (1:56), 39 (2:36), 39 (3:13), 39 (3;56), 39 (4:35), 39 (5:13), 40 (5:53), 39 (6:33), 40 (7:13). 37 (7:51), 40 (8:32), 39 (9:11), 37 (9:49), 35 (10:25). This performance has placed Hunt as the 20th ranked Sophomore in the New Jersey 3200 meter rankings, and gave him positive momentum going into the NJCTC Championships.