NFL PLAYOFF PREVIEW
This NFL season has been a long one. It was the first one with an 18-week schedule, having teams play 17 games in a season. But who are these teams? What have they had to overcome? What is going to happen to them? This is YOUR NFL PLAYOFF PREVIEW!
I will be going over the teams from 1 seed to 7 seed, where I think they will rank, their weaknesses and strengths, and so much more. Starting with the AFC, let's do it.
AFC
#1 Seed: Tennessee Titans: Grossly Underrated (12-5, .706%, AFC South Champion) 
Prediction: Lose Super Bowl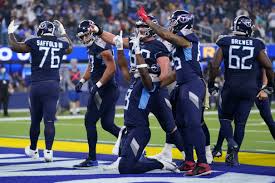 Being the #1 Seed, you would think that people would consider the Titans a serious contender. Sadly, that's wrong. Just last week, the ESPN power rankings showed the Titans BEHIND the Colts, Chiefs, Bills, and Rams. ALL TEAMS THEY BEAT OR SWEPT. Since Week 14, their STELLAR defense led by Pro Bowler Kevin Byard and captain Jeffery Simmons has led the league in interceptions, points allowed and rush yards allowed. They've had great shutouts against the Chiefs (by the way, the last time the Chiefs did not score a touchdown in a game was in 2016, BEFORE PATRICK MAHOMES ARRIVED) and let Matthew Stat-Padford get a garbage-time touchdown in a 28-16* primetime away game defeat against the Rams. That's not to say the offense hasn't done work either. Their good, but not great quarterback Ryan Tannehill is protected by a great O-Line with All-American center Ben Jones and 3x Pro Bowler and Nashville Predators hype man Taylor Lewan. Tannehill has great receivers in A.J Brown, veteran Julio Jones, rookie Nick Westbrook-Ikhine and proven TEs in Anthony Firkser and Geoff Swain. But the real stars are in the backfield. Despite the Titans star, Derrick Henry, being injured in Week 8, he has the sixth-most rushing yards in the league. His substitutes in Dontrell Hilliard and D'onta Foreman have picked up the slack, rushing with the same speed and intensity that Henry has. And getting him back will be HUGE for the franchise. For leading the team to a 12-5 record without Henry for more than half of the season, Mike Vrabel almost certainly deserves Coach of the Year.
Although they've had tough losses against the Steelers and Patriots, and a close game against the Texans, I have faith that they will get to the Super Bowl. Whether they win or not, I'm betting on not. If it's not obvious, I'm a huge Titans fan.
Notes: Mike Vrabel is 8-0 in the game after the bye week, Tannehill was named AFC Offensive Player of the Week for Week 18.
#2 Seed: Kansas City Chiefs: Star Quarterback, Inconsistent Season (12-5, .706%, AFC West Champion)
Prediction: Lose Conference Championship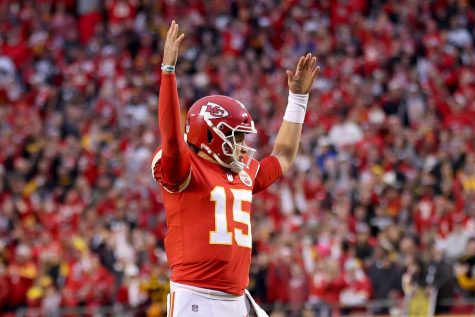 The Kansas City Chiefs have arguably prospered the most by the downfall of the Patriots dynasty. Since Logan Ryan heroically ended Tom Brady's AFC reign in 2019, Kansas City has been led to the Super Bowl twice, one ending in a victory against the 49ers, and the other ending in a sorrowful defeat against the Buccaneers. They are looking to go for their third straight Super Bowl appearance. After a rocky 3-4 start, where Mahomes threw as many interceptions in this window as he did within the entire 2020 season, they buckled down, winning 7 straight, including a blowout against the Las Vegas Raiders and a close, hard fought game against the Packers. But after losing a really close game that, let's be honest, should have been won by Kansas City, to the Bengals, they were demoted to the two seed due to the tiebreaker. Although Patrick Mahomes was looking rocky in the beginning, he has been on fire, being 4th in the league in passing. Patrick Mahomes has a bunch of great targets, including the second star of the team, Tight End, and E! Channel Star Travis Kelce has had another stellar year on the team. The outfield is buffeted by Tyreek Hill, Josh Gordon, and Byron Pringle, while the backfield is supported by good, but not great backs in Clyde Edwards-Helaire and Darell Williams, who have been utilized more in receiving than in running. The greatest weakness in this team has been their defense. They have had good games, like the Packers game, but give up almost as many yards as the offense gains. The lack of definitive leadership may hurt them as well, as they are one of the teams that rotate weekly, but a presence on the defense during the playoffs could give them a much-needed presence. Their main problem is their pass rush, giving up around 4300 yards in 401 attempts, which is 10.72 per pass on average. Their run defense is much better, with only 1999 yards on around 430 attempts. But it is still a problem, as their defense is 27th in the league in yards allowed. If they meet someone like Cincinnati's Joe Burrow or Buffalo's Josh Allen, they might have some trouble. But I would still take them due to their sheer offensive power. Patrick Mahomes is still a beast.
I'm also jonesing for revenge for the 2019 AFC Championship game. Good luck to the Chiefs.
#3: Buffalo Bills: Seeking Super Bowl Disappointment #5 (11-6, .647, AFC East Champion)
Prediction: Lose Wild Card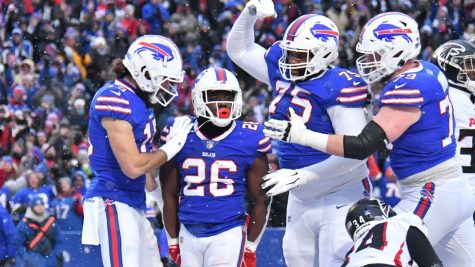 As much as I would like to see a Titans vs. Bills Conference Championship, it probably won't happen. The Bills have been another one of those teams that benefited from the downfall of the Brady Dynasty, benefiting almost immediately by making their first conference championship since 1993. They did a little worse off the back of an impressive 13-3 season with star QB Josh Allen and star WR Stefon Diggs. But they are still one of the AFC powerhouses. However, in my opinion, they can't stand up to the Chiefs, Titans, or Bengals. Stefon Diggs had a great year and was one of Josh Allen's top targets. But Josh Allen is like a slightly nerfed Joe Burrow (who ironically, is like a slightly nerfed Patrick Mahomes). I can't see them getting past the Patriots in the first round. If they do, and they play the Chiefs, however, we might see that Titans-Bills matchup. The Patriot's defense will be all over Josh Allen, and unless the Bills can figure out to play 5 defensive linemen, they will likely run all over them again. The Allen-Diggs connection would be important if they get past the Wild Card. But I don't think they will be able to connect as well vs the Titans. But offense isn't the only thing on the Bills. In 2021, the Bills led the league in yards allowed, sporting the #1 defense. But is it going to be enough to defend against the likes of these offensive powerhouses? The Bills haven't really gone against the Bengals or Chiefs, and although they played both the Titans and Steelers in the regular season, both of them ended up in losses. This is one of the reasons for my pessimism towards the Bills and why I think that their "#1 Defense" is still relatively unproven.
But I wouldn't mind seeing them prove me wrong.
#4: Cincinnati Bengals: Like, So Hot Right Now (10-7, .588, AFC North Champion)
Prediction: Lose Divisional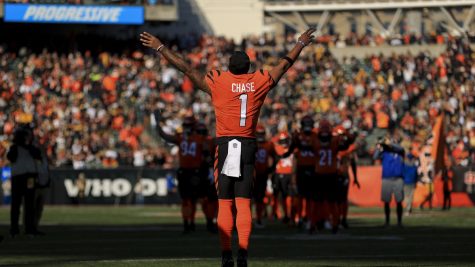 The Cincinnati Bengals are THE hottest team right now. No contest. They came out of the most hotly contested division in the league with the division title. It honestly should have been the Ravens, but they went for two like three times. Good job. Speaking of the Ravens, in Week 16 against them, Joe Burrow threw for 525 yards, the 4th most behind great names such as Warren Moon, Matt Schaub, and Norm Van Brocklin. During this, he threw to Ja'marr Chase a lot, racking up 125 yards vs the Ravens and 266 vs the Chiefs the next game. These two looks to be unstoppable. They also have a reliable running back in Joe Mixon. What could stop them? Well, it's their defense. Watching a Cincinnati Bengals game is a lot like watching a Wake Forest game. A lot of points are scored, and Wake Forest usually wins, but sometimes, they get blown past, and their offense can't keep up. The Bengal's defense is less than destructible, their run defense being the worst. If they run into a scary running back like Derrick Henry or Damien Harris, they might be overwhelmed. But at least for now, they have a punching bag game against the Las Vegas Raiders. The only way I could see them getting to the conference is if they play the Chiefs, but that would require the Bills beating the Patriots, which is definitely a tall order to win against a division rival in a playoff game. The last thing is injuries. On their extremely lucky illegal hands to the face drive against the Chiefs, they injured their star quarterback, Joe Burrow. He has been participating in practice, but he will most likely not be playing at 100%. Since the injury is to his knee, he might have trouble waiting for time to find a long bomb to throw to Chase, so unless his O-Line can muster up some historical stops, I doubt that he will be able to arch the back and throw it long.
Wild Card Time!
#5: Las Vegas Raiders: Justin Herbert Died For This (10-7, .588, AFC West Runner Up)
Prediction: Lose Wild Card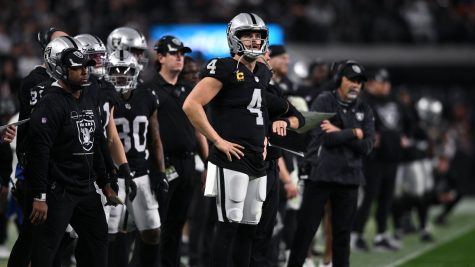 You did this, Las Vegas. You denied one of the GREATEST quarterbacks a playoff spot. At least with the Chargers, it would have been interesting. Justin Herbert actually might have stood a chance against Cincinnati's terrible defense and we would have seen one of the most amazing quarterback duels EVER. But no. You guys had to have the weirdest season ever, somehow end up 10-7, and take it away from them. Thanks a lot. Better yet your defense is SOMEHOW WORSE THAN YOUR OFFENSE. You got trounced by Cinci 13-32 AT HOME, so what makes you think that you're gonna do anything against them in Ohio?
Sheesh.
The Raiders this season had one of the weirdest records all year. At the start of the season, they went 3-0, including a 400 yard game against the Ravens (when they were good) and a convincing win over the Steelers. They then lost convincingly against the Chargers and threw for only 188 yards against the Bears. Then Gruden got fired. This was definitely a shocker as Gruden has been coaching in the NFL since the '90s, but they got over it pretty quickly, winning 2 more and improving to 5-2. They then lost 3 in a row, barely beat the Cowboys, and then lost two in a row, including a game where they mimic'd Rich Gannon TO A T and threw five picks in a 48-9 loss to the Chiefs. They then somehow won four in a row to improve to 10-7. However, they were all against teams who did not make the playoffs this year. The Raider's regular season was a little embarrassing, even more so that they made it in. Expect a blowout of Jaguars-Dolphins proportions.
Notes: I called them Oakland so many times. I also had to suppress the urge to call them "San Diego" as well so I just called them the Chargers. Stop moving the teams. DE Maxx Crosby was also the AFC Defensive Player of the Week for Week 18.
#6: New England Patriots: Wait, Aren't You Guys Supposed To Be Terrible Now? (10-7, .588, AFC East Runner Up)
Prediction: Lose Divisional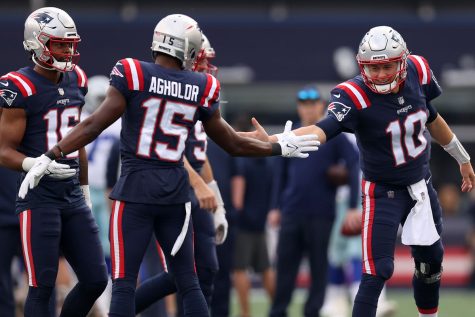 Gosh, could you imagine if the Dolphins beat the Titans and were in this spot instead of New England? Just think about that for a second, it sounds absolutely crazy, but two weeks ago that was a genuine possibility!
Alright, you're done thinking about that now? Good. New England went from being 7-9 last season to being 10-7 this season. How did Belicheck do this, you ask? At the beginning of the season, he had a tough decision to make. Do you put Cam Newton, a veteran presence, in the starting QB, or do you give it to Mac Jones, a QB from Alabama who was absolutely untested in the NFL? Belicheck gave the starting position to Jones, while Cam Newton did the same thing every game with the Panthers, run for a rushing touchdown and then do nothing the rest of the game, helping them gain a 5-12 record. #FreeSamDarnold. But Mac Jones has been really good this year, especially since it is his first. He isn't really ROTY material, but he has helped the Patriots improve to a Wild Card spot. However, there is going to be some trouble in the first round as they play their division rival in the Bills. They are 1-1 this season against them, but I choose the Patriots over the Bills due to the fact that Belicheck is very good in the playoffs. Mac Jones connecting with Jakobi Meyers has proved to be very dangerous and I think that they will be able to exploit that still. They can also switch to the run very easily. In their 14-10 victory over the Bills, Mac Jones threw the ball only 3 times for 19 yards and entrusted the ball to their running back Damien Harris. In his other game against the Bills, he had a passer rating of 31.4, throwing for two interceptions, so it might be better to give the ball to Harris. Only time will tell what truly happens, and this will probably be the best game during the Wild Card round. A barn-burner to be sure.
#7: Pittsburgh Steelers: The Most Boring Team In The Playoffs (9-7-1, .559, AFC North Runner Up)
Prediction: Lose Wild Card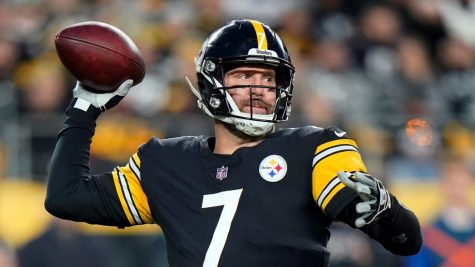 I hate the Ravens as much as the next Titans fan, but my GOD the Steelers have GOT to be the worst team in the Playoffs this year. My favorite part of the year was when the Steelers tied against the Lions but they just HAD to beat the Ravens to barely sneak in. If you look at their wins they aren't really impressive, to name a few, their week 1 win against the Bills, QB, and Professional Class Act Ben Roethlisberger only threw for around 170 yards, while Josh Allen threw for 280. This brings up a problem. Their defense and offense are absolutely terrible, ranking 21st and 20th respectively. This is not a playoff-caliber team at all. They have been extremely lucky throughout the regular season, but their luck will end here, as they play Kansas City in the first round, who already routed them in Week 16, winning 36-10. The legacy of a great quarterback will end with a whimper.
NFC
#1: Green Bay Packers: The Best Team In The NFL (13-4, .765, NFC North Champion)
Prediction: Win Super Bowl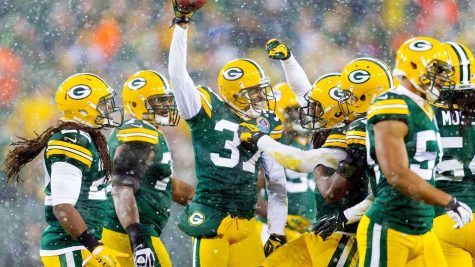 The Green Bay Packers are undeniably the best team right now. Aaron Rodgers should ABSOLUTELY get the MVP this year, but he probably still won't. I know the Packers have a reputation for choking in the Conference Championship, it happened in 2020 and 2019. But if they can't get it done this year, I don't know if they ever will. After losing in week 1 to the Saints, 38-3, they never looked back, winning 7 in a row and defeating the undefeated Arizona Cardinals, they quickly improved to 13-4 and posted the record you see now. They have veteran QB, Aaron Rodgers, great receivers in Davante Adams, Randall Cobb, and Allen Lazard, and good backs in AJ Dillon and Aaron Jones. And I know the question you will be asking is "Why did they lose to the Lions?" And the answer I have for you are sandbags. They DEFINITELY didn't care about this game. You could make the argument that it was a division rival, but they were 2-13. They were not in a position to do anything. This was not like the Cardinals game or the Colts game where they needed this win in a close race. They lost and they kept the one seed.
This team has been the frontrunner for a long time. Do not be scared because they lost one meaningless game. Aaron Rodgers wipes the competition. Their defense is powerful. Their offense is one of the most efficient in the league. This is their year to win it all.
#2: Tampa Bay Buccaneers: The Most Overrated Team Ever Made (13-4, .765, NFC South Champion)
Prediction: Lose Wild Card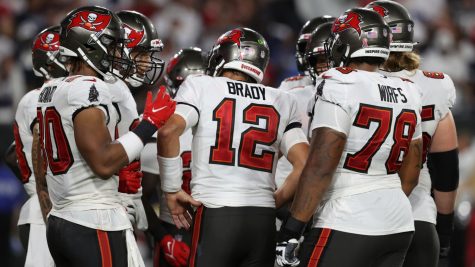 All throughout this year, I've heard how the Bucs are gonna win the Super Bowl again this year. Well, it's just not gonna happen. The Bucs are looking to defend their Super Bowl Championship from last year. But because of the new format, this will be the third time that Tom Brady has to play in the Wild Card. But his superhuman luck seems to disappear in the Wild Card. He has a 3-2 record, playing less than average in wins against the Jags, Jets, and Football Team in '05, '06, and '20 respectively, and has two losses against the Ravens in '09 and the Titans in '19. Pile this on with the fact that Arians just straight up isn't that good of a coach (he had two Super Bowl appearances with the Steelers, but he was the offensive coordinator instead of the actual head coach) and the fact they have a rematch of Super Bowl 52 against the Eagles, you have prime conditions for a close match. The Bucs this year had 3 of their 4 losses come against teams that did not make it into the playoffs, namely the Saints and the Football Team (one of them being a 9-0 shutout where Brady threw for just 184 yards and 2 turnovers). Although Brady had some help from their defense who forced an insane amount of turnovers. One highlight was in week 12, forcing 5 turnovers against the Colts. The offense has a lot of stars, such as running back Leonard Fournette, wide receivers Chris Godwin and Mike Evans, and human golden retriever Rob Gronkowski. The defense has stars too such as Richard Sherman, Ndamukong Suh, and Jordan Whitehead. I would be remiss, however, if we didn't talk about Antonio Brown. Love him or hate him, he was a great wide receiver, but after his outburst at the Jets game, he was cut from the team. This started to throw around a lot of accusations, mostly around Bruce Arians. But only time will tell if this introduced turmoil to the structure of the team or if it will pass.
#3: Dallas Cowboys: Almost America's Team (12-5, .706, NFC East Champion)
Prediction: Lose Divisional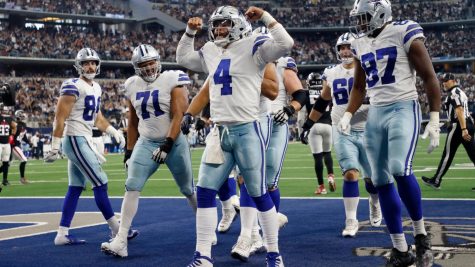 The NFC East absolutely stunk it up last year. They were the only division in the league without a winning team (Washington won the division at 7-9) and going into the season, it looked like it might happen again. But now, they boast the #1 offense in the NFL. They started off 5-1, but after Thanksgiving, they were stuck at 7-4. Not bad, but not great either. They then won 4 in a row, had a close game to the Cardinals, and then smashed the Eagles to take the #3 seed at 12-5. But the problem here is their strength of schedule, that is to say, they didn't have one. Their 4 game winning streak moving into the end of the season was against the Saints, Washington twice, and the Giants, who all stunk this year. In fact, the only team that even made the playoffs this year who they beat was the Eagles. They had a Week 1 loss to the Bucs and lost to the Chiefs, Raiders, Cards, and even the Broncos. The Cardinals game is especially worrying due to the fact that the Cardinals just lost to the Lions the game before. They were probably the team with the least momentum and still lost at home.
Dak Prescott has been really good this year, throwing for almost 4,500 and only 10 interceptions. He has definitely been one of the sharpest and consistent quarterbacks this year. He is complemented by All-Pro running back Ezekiel Elliot, who has had another great year at running back. You have some of the best receivers in the league, headed by sophomore CeeDee Lamb and veteran Amari Cooper, and supported by Michael Gallup and Dalton Schultz. They have a great defense, supported by Pro Bowlers Micah Parsons and Trevon Diggs, helped out by Dorance Armstrong Jr, Randy Gregory, and DeMarcus Lawrence. They certainly have all the pieces to dominate, but if they will or not is up to them. They have the tools to defeat the 49ers, but a divisional matchup against someone like the Cardinals could be dangerous for Dallas.
Notes: Dak Prescott was the NFC Offensive Player of the Week for Week 18.
#4: Los Angeles Rams: The Media's Darling (12-5, .706, NFC West Champion)
Prediction: Lose Conference Championship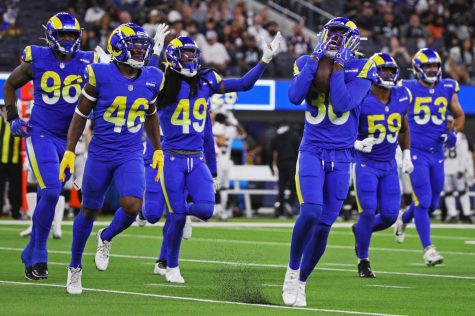 OBJ IS NOT A GOOD WIDE RECEIVER. IF STAFFORD KEEPS THROWING TO HIM, THEY WILL LOSE. Just wanted to get that off my chest.
The Los Angeles Rams have been absolutely dominant for most of this year. The NFC West was definitely the best division in the league this year, and coming out on top has gotta be great for the Rams. Besides tough losses to the 49ers and Titans, the Rams have absolutely looked strong this year. They have a great quarterback in Matthew Stafford, a top 10 receiver of all time in Cooper Kupp, a good running back in Sony Michel, and a reliable tight end in Tyler Higbee. But their defense has been stellar all year long. Pro Bowlers in Aaron Donald and Jalen Ramsey. One of the most decorated defensive players in the league is Von Miller. Downright scary players in Greg Gaines, Taylor Rapp, and Leonard Floyd. Their defense has so many good players that it is a little bit scary how good they are. The team is 1-1 against their Wild Card opponent in the Arizona Cardinals but even with the Cardinals having a decorated offense, I still don't think that they had the momentum that they had in the early season to defeat the Rams. We have never really seen THESE Cardinals in the playoffs, but they could either dominate or just fall over. But I think that if the Rams are able to defeat the Cardinals, they could easily get over the hump that is the divisional round. Worst comes to worst they either play the Cowboys or the Eagles, both of those teams I think the Rams could defeat handily.
Notes: Donald has also been the Defensive Player of the Year three times. I so desperately hope they lose, even more than the Bucs and Chiefs.
Wild Card Time!
#5: Arizona Cardinals: The Bigger They Are, The Harder They Fall (11-6, .647, NFC West Runner Up)
Prediction: Lose Wild Card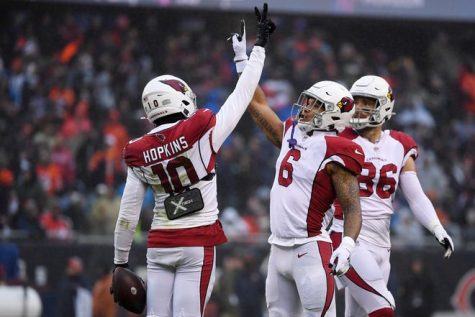 If you had told me at the mid-season that the Arizona Cardinals would have won the Super Bowl, I wouldn't be surprised. But if you told me they lost to the Lions, Colts, and Seahawks, I wouldn't believe you. In fact, I'd probably tell you to leave my family alone and get out of my house. But that's what really happened. Before the bye week, the only losses they had were a tough fought primetime battle against the Packers and a fluke, uncharacteristic defeat against the Panthers. But after the Bye Week, where they had some of their easiest games, they lost four of six. In my opinion, that's not really what you want going into the playoffs. You don't want to be losing four of six to the Colts, Seahawks, Rams (who you are playing), and Lions. They do have unlimited potential, and I really hope they will live up to it, but I doubt it. Their stellar offense is headlined by Kyler Murray, a great quarterback who is still in the MVP discussion. Then they have a great backfield led by Pro Bowler James Connor. But their stars are all in receiving. First, there's AJ Green, one of the most proven and time-tested receivers of all time. Then there's DeAndre Hopkins, who is probably one of the top 5 receivers ever. There's five-star recruit Christian Kirk, who, out of the three seasons he's been in Arizona, this season is his best so far. Then there's Super Bowl Champion Zach Ertz, who got traded here by Philly in the middle of the season. He also holds the record for the most receptions in a season for a tight end. Their defense has starred as well, with Pro Bowlers Budda Baker and Chandler Jones. They have a veteran and 3-time Defensive Player of the Year winner J.J Watt. They ABSOLUTELY SHOULD BE THE FRONTRUNNERS HERE, yet they choked hard. I really hope they don't choke in the playoffs, this is one of the most STACKED teams in the league. Maybe they'll have another chance next year, maybe build their defense or O-Line a little more. Maybe they don't have the synergy. But they absolutely should not be choking or sandbagging like this. Only time will tell what truly happens to arguably the best squad the Cardinals have ever had the pleasure of owning.
#6: San Francisco 49ers: Up And Down (10-7, .588, NFC North 3rd Place)
Prediction: Lose Wild Card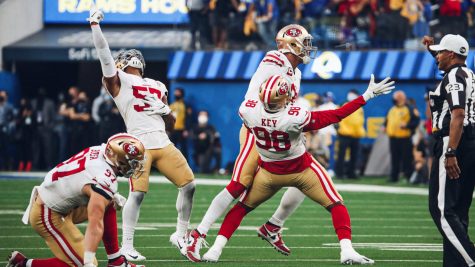 Do you guys remember when Kyle Shanahan joined the team as HC and then went 6-10, 4-12, then made the Super Bowl? They went 6-10 again the next year too. My point is that this is one of the most inconsistent teams in a league full of inconsistency. This season was up and down for them as well. They started out the season going 2-3, going to 3-5 after the bye week. Then they started winning, beating some middle-of-the-pack teams like the Falcons, Bengals, and Vikings, and even beating the Rams. But they had a tough loss to the Seahawks and the Titans, before beating the Texans and the Rams AGAIN in OT to make the playoffs as the 6 seed. Their defense is led by Jimmy Garoppolo, who is coming off an injury to his thumb. This could hinder him somewhat, but he did have 316 yards against the Rams on Sunday. His handoffs usually target Elijah Mitchell, but due to a knee injury, they have had to go to Jeff Wilson or Trey Sermon. He also has the option to go to a Pro Bowler in Kyle Juszczyk. His receivers are where the talent really ramps up, with Pro Bowler Deebo Samuel getting a lot of targets. He is complemented by a veteran WR in Brandon Aiyuk, someone who also has lots of synergy with Garoppolo. Jauan Jennings was someone getting a lot of targets in the closing week, with 94 yards and 2 touchdowns against the Rams. I would be remiss, however, if I didn't identify extremely powerful and efficient tight end, George Kittle. He has been a major receiver in the 49ers' regular season and he is looking to extend his legacy to the postseason. The #3 ranked defense is led by Nick Bosa, who called up an incredible 15.5 sacks this season. He is complemented at the defensive line by Arden Key, Arik Armistead, D.J. Jones, Kentavius Street, and Samson Ebukam. The secondary is made up of a core of Fred Warner and Jimmie Ward and is supported by Azeez Al-Shamir, K'Waun Williams, and Josh Norman. Both ends of the 49ers are downright scary, and I think we haven't seen them at their best. Nevertheless, I still think they will lose in a close game to the Cowboys. But this season will at least leave something to be desired by this team.
#7: Philadelphia Eagles: Please Just Do This One Thing (9-8 .529, NFC East Runner Up)
Prediction: Lose Divisional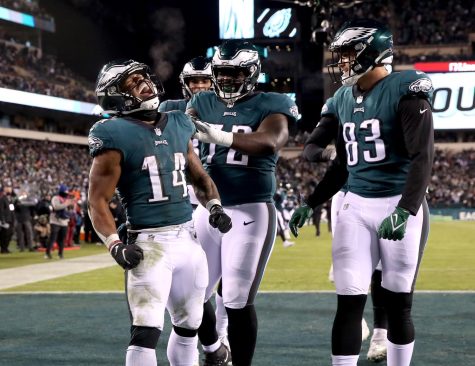 I love Gardner Minshew.
This is the Eagles' first year without their Super Bowl-winning coach in Doug Pederson. And I have to say, they are taking it well. Everyone's favorite 80's band started out with a 3-6 record but slowly improved to 9-8, only taking losses against the Giants and the Cowboys along the way. They are led by Jalen Hurts, a decent quarterback, but he's not anything special. Their running back, Miles Sanders has gotten the job done as well. The best player on their offensive squad is probably wide receiver DeVonta Smith, who leads the Eagles in receiving yards, who is well supported by Quez Watkins and Jalen Reagor. Since Zach Ertz left, Dallas Goedert has had to pick up the work in the tight end position, with the highest catch rate on the Eagles (between WR and TE's) and 830 yards in 15 games. Their defense is pinned by Javon Hargrave and Josh Sweat, both with 7.5 sacks to their names. Helping their secondary is Pro Bowler Darius Slay along with Rodney McLeod, Alex Singleton, and T.J. Edwards.
I would not think that this Eagles team would beat any team in the playoffs (except maybe the Steelers). But this is different. Tom Brady is still relatively unproven against the Eagles in the playoffs (think Super Bowls) and the Eagles lost a close one-score game when they were definitely not a playoff-caliber team at the beginning of the season. The bottom line is I don't trust Tom Brady against the Eagles. And I think that they have a chance, maybe one of the best chances against the Bucs that any team in the playoffs has. If they can just do this one thing against this one team, they will go down in history as heroes.
But if they get into the divisional round, they will be crushed for sure. Sorry Eagles.
Notes: Here's a picture of Gardner Minshew. You don't have to thank me.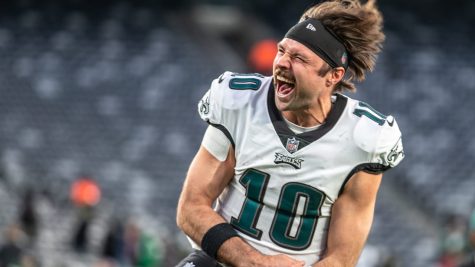 The playoffs are full of Cinderella stories and unlikely teams becoming heroes. I am extremely excited for what this year is going to bring to the postseason, especially since it widens the pool, even just a little bit. You can catch the games starting on Saturday at 4:30 PM EST with the Raiders and Bengals and ending on Monday at 8:15 PM EST with the Cardinals and the Rams.
Good luck to all the teams!
Leave a Comment