Mr. Kauonis Christmas Interview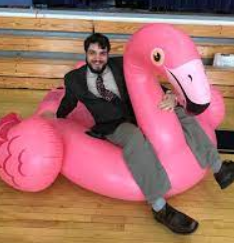 For the past few weeks, I've been interviewing teachers on the topic of favorite Christmas songs. I thought that this would be an easy task to complete, but a lot of the teachers I've interviewed don't share the same love and appreciation that I do for Christmas songs. One example of this is Mr. Marsh. As soon as I uttered the words "Christmas songs," I saw his heart sink. In short, Mr. Marsh hates Christmas music. I asked him if there was any particular song that he enjoyed, and he said, "Christmas in Hollis," an interesting choice considering the endless amount of songs out there. I knew I couldn't write my paper on this one song, so I went on to my next choice, Mr. Gordon. I never would've guessed that the religion teacher hates Christmas, but surprisingly, he does. I don't believe Mr. Gordon hates Christmas itself, but more the commercialization of it. Sadly, this includes Christmas songs, so I had to move on to my next choice, Mr. Kaounis. I knew Mr. Kaounis would pull through for me, as he gave me his top ten favorite Christmas songs; I'll say, he has very good taste. I will start by talking about his number ten moving down the list to his number one song.
"Santa Claus is Coming to Town" by the Jackson 5
An absolute Christmas classic, I think it fits in perfectly because there are many songs that surpass it, but it is definitely still up there.
"Sleigh Ride" (instrumental or Ella Fitgerald)
Another absolute classic, although this one I feel is significantly lower than where it is placed. Not much to write about this, a big song that's always played. EXTREMELY underrated, needs more recognition.
"Holly Jolly Christmas" – Burl Ives
I don't understand why this song is here. Yes, it was in the original Rudolph TV special, but I believe if it wasn't for that, this song wouldn't make the top 25. A poor choice by Mr. K. Don't get me wrong, I enjoy this song every now and again, but this is extremely overplayed and doesn't have a place on this list.
Polar Express Theme
YES! This song is one of the best Christmas songs of all time. The instrumental part alone could be up higher. With this song being so low on the list, I wonder what Mr. K could put above this masterpiece. I wish he would reconsider this choice. In my opinion, this is a top 5 at least.
"Oh Holy Night" – Adolphe Adam
Always a viable option. This song is more focused on the actual purpose of Christmas, that being the birth of Christ. A tranquil and peaceful song, this is always a church classic, but I think that this is a properly rated song.
"Frosty the Snowman"
An interesting choice. Throughout this list, I've seen how Mr. Kaounis likes all the Christmas theme songs, and I agree with him. However, to put this at number 5 on the top ten list of all time may be a bit too much. If I were to rate this, I would probably not put this in the top ten but possibly the top twenty.
"Jingle Bells"
Now this is a properly-rated song. I would even go so far as to put this in my top 3. The best part of this song is the Frank Sinatra version. One of the first songs that I feel is properly rated.
"Christmas Time is Here" – Charlie Brown Special
Another perfectly rated song. One of the best Christmas theme songs of all time. Always a good tune to listen to during the Christmas season. Coming in at the number 3 spot is exactly where it should be, not too low and there are still a couple songs that are more suitable for the number two and number one spot. 
The Original Grinch Theme 
An average song, which I think for most people has extreme sentimental value. I believe this is the only reason this song is so high on the list. I'm very disappointed. There are so many other songs that could've been put in this spot. Not that this is a bad song, but its placement is ridiculous. Mr. K should definitely reconsider another song for this spot.
"All I Want for Christmas is You" by Mariah Carey
This is a perfect spot for this song. I never would've thought that Mr. Kaounis would be a big fan of Mariah Carey. An interesting choice for him. I still think other songs could've taken this place, but I understand how popular this song is. 
Overall, I enjoyed Mr. K's list because it is so unique. I never would've put half of these songs on this list but that's what makes Mr. K so special. I will be continuing my journey of interviewing teachers (especially Mr. Kaounis) in order to get a good representation of the staff here at Oratory Prep. If there are any other things you would like to see, please email me. 
Merry Christmas,
Matt Sturchio