OPXC Update: Rams Take on The State Championships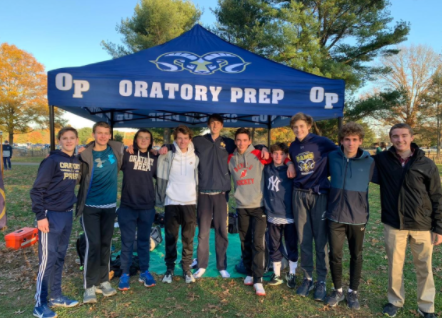 Holmdel Park – November 12, 2021: the original date in which all qualifying teams from Groups 1 – Group 4, as well as Non-Public A and B, would gather to race their respective state meets. Due to an impending storm, all but 3 of the races were able to take place. One of the 3 races that were pushed back happened to be Non-Public A, the group that Oratory happens to compete in. The meet was pushed back to Tuesday, November 16th, where Oratory would finally race the state's finest, including State Ranked #1 Union Catholic (10th Nationally) and State Ranked #2 CBA (12th Nationally). 
For context, Holmdel Park provides some of the most excruciating experiences a runner will encounter. It is famous for the roller coasters (half-mile of rolling hills) that lead you on the way to the Bowl. The Bowl gets its name from its shape, as runners quite literally run down then up one of the steepest hills they have to run on. Times are typically slower on this famed course due to its challenging nature. 
Despite the challenges the course provided, Oratory persevered and had a day that not only provided positive momentum for the winter and spring track seasons, but also for the next cross country season. In familiar fashion, senior captain Ciaran Bowler was the first to finish, as he has been all season. Bowler has had a great 4 years running for the Rams, closing out his senior cross country campaign in 17:48. He was followed by the potential top 3 for next season, sophomore Tommy Hunt in 18:37, junior Gus Russo in 18:40, and sophomore Bobby Bajkowski in 19:26. Young runners with great potential later came through, these runners being sophomores Rome Brachfeld and Patrick Conniff. Finishing in between Rome and Patrick was senior captain Jake McChesney. Jake McChesney has had a very unique experience on the cross country team, experiencing almost every aspect there is to cross country. These experiences are what encouraged him to run in the final race of his career; this was despite the fact that he was overcoming pneumonia and had not run much in the last 2 weeks.
Bowler, Hunt, Bajkowski, and McChesney all have great momentum going into the Winter and Spring Track seasons; the same can be said to Conniff and Brachfeld in their respective sports. Looking back, the Rams have had a great season. The season came with great successes, including coming 1st in the NJ Catholic School Meet, 3rd at Stewart Memorial Invitational, 4th in Union County Conference Watchung Division (top division), and many other great performances at invitationals. Based on the performances of underclassmen this year, Oratory will have great years to come. That being said, the seniors will not be forgotten and will be dearly missed. Although successful, this year was a building year for the young team. In the coming years, OPXC will continue to get better and better.