Album of the Month: October 2021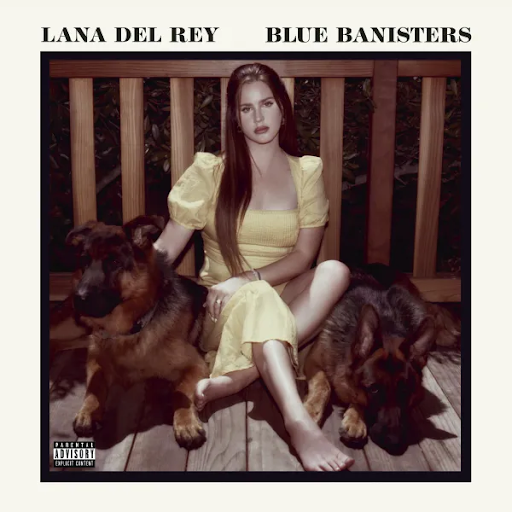 After a brief seven-month hiatus since releasing her latest project, Chemtrails Over the Country Club (March's Album of the Month), Lana Del Rey came back in spectacular fashion. Although widely recognized for the consistency of her albums, Lana's sound lacks a traditional style. Her genre-bending styles of storytelling have never gotten old in her many years as an alternative indie rock star. Del Rey truly cemented herself as a revolutionary voice with 2019's Norman F****** Rockwell and her two 2021 releases have followed this trajectory. Leaked music has been an issue for Del Rey throughout her career but Lana managed to weave tracks like "Living Legend" (originally recorded in 2013) into her newest album. October's Album of the Month, Lana's second award of the year, is truly deserving of the title. Blue Banisters asserts Del Rey as one of the greatest in her genre, even if that genre can barely be confined.
Fun Fact: Lana Del Rey's birth name is Elizabeth Woolridge Grant. Her reason for choosing the stage name was due to her desire for "a name [she] could shape the music towards." In the early stages of her career, Lana frequented Miami, speaking Spanish with her friends. When asked about the origin of her name, she answered, "'Lana Del Rey' reminded us of the glamour of the seaside. It sounded gorgeous coming off the tip of the tongue." Undoubtedly, this ocean-like atmosphere is ingrained into almost all of Lana's albums and is recognizable on Blue Banisters, most notably the fifth track "Black Bathing Suit." The aesthetic that Lana provides her audience on a regular basis is untouched by any other artist. Lorde and Lana Del Rey were often put into the same category because of their musical similarities. Not to say those similarities aren't there, but Lana Del Rey is in a league of her own. Lorde's first Pure Heroine and Melodrama were phenomenal but 2021's Solar Power left a lot to be desired. On the contrary, Lana Del Rey's past three albums have been personal, interesting, and, most importantly, relatable. 
The auras received from Lana's albums are consistent, but Blue Banisters contains some of Del Rey's riskiest ideas. The fourth track is simply astonishing for a multitude of reasons. When listening to Lana Del Rey, you typically know what you're getting. However, "Interlude – The Trio", an instrumental track, has an immense impact on the album cannot be overstated. It begins on heavy drums and transitions into an abrasive brass melody with blaring bass. On my first listen to Blue Banisters, I was quite shocked after listening to this song. Although Lana Del Rey doesn't sing or rap (thank God) on this track, I was surprised by its inclusion in the project. Honestly, I was waiting for Jay-Z to start rapping, that's how phenomenal this beat was. It doesn't fit the narrative and is surrounded by fourteen tracks that sound like typical Lana Del Rey. But, its inclusion makes the album full, albeit in a very imperfect way. Even if you don't plan on listening to the project, listen to just one track, "Dealer". In my opinion, "Dealer" is the best track on Blue Banisters and one of my favorite songs from Lana of all time. It's also in contention for one of the best songs of the year in my books. Everything Lana is great at was capitalized off of, making for a 10/10 song.
When I first heard Lana Del Rey was releasing a second project in 2021, following the astounding Chemtrails Over the Country Club, I didn't think she could top it or even match it. I truly mean that. But, Lana did it! It's a gorgeous piece of work, yet simultaneously dense and abstract. The production on Blue Banisters is flawless, Lana's vocals are poignant, and her songwriting is as perfect as always. There's not much else to say.
Blue Banisters did not have an easy path to its Album of the Month victory. In fact, I believe that this month's winner was the hardest to pick. For the month's entirety, the award was up in the air. The three contenders for the trophy were so different from one another but were each deserving in their own right.
Of this three-way race, the most experimental is JPEGMAFIA's newest effort, LP! For the sake of this article, I am going to be talking about the "OFFLINE" version. Essentially the version of the album is not on streaming services but is available for free download due to sample clearance issues. Peggy claims this version as the true album. Although JPEGMAFIA is one of the most distinct voices in hip-hop, this blew my expectations out of the water.
What makes Peggy so unique is his undeniable talent whilst making albums that are extraordinarily true to himself. The project that put him on the underground rap scene's map, 2018's Veteran, is an album filled with harsh vocals, borderline grueling instrumentals, and everything that should not sound good to listen to. However, Veteran was released to extreme critical acclaim, placing Peggy at the forefront of the experimental underground scene. His next effort, 2019's All My Heroes are Cornballs, managed to produce even higher acclaim, all while the album had all the signature Peggy` quirks that made Veteran so popular. Song structure barely exists to JPEGMAFIA, cutting out entire sections of songs for vocal interludes or abrupt autotune crooning. After these two efforts, we had no clue what to expect from Peggy – at least until now.
When LP! first came out, I was nowhere near a fan of the album. I was confused with this new sample-driven direction Peggy has gone for since All My Heroes Are Cornballs and I wanted more of his older sound. However, after relistening a few times, I can not describe how much this album grew on me. The album opens with "TRUST!" a certified banger with an infectious beat, where Peggy introduces the main theme of the album – 'no matter how mainstream he becomes, he is going to continue to do what he wants to because he HATES what has become of the music industry.' That is apparent throughout the entire album, and his attitude with the project (releasing the true version of streaming services) resonates that same ideology.
Sonically, the album takes a much more sample-driven approach to Peggy's style of rapping, all while combining his past sounds. Songs like "THOT'S PRAYER!" demonstrate him at his most melodically-inclined, where he vocalizes over an old R&B sample, while interpolating Britney Spears' old work. Meanwhile, "END CREDITS!" uses a harsher sample to give a classic abrasive track, where he raps about his motivations to rap and spite for the industry. However, this album also gives us his most focused production. Every song feels full of sound and different elements are used to fill any empty space. "WHAT KINDA RAPPING IS THIS?" features Peggy over psychedelic, trance-like instrumentation, mixing his voice within the beat to give a surreal listening experience. For anyone who has an open ear and can handle a little experimentation, I cannot recommend this album enough. LP! may not be JPEGMAFIA's best work but it is far from disappointing.
The other project that was in somewhat contention for October's award was James Blake's new record, Friends that Break Your Heart. This album is quite literally, immaculate. I've never listened to a James Blake album before, but I know that he is respected as a genius and inspiration in the music industry, so I knew I had to check him out. Starting with the soft "Famous Last Words" James sings over a subtle instrumental, introducing the album's core theme – the end of relationships, romantic or not. He describes the strength it takes, the pain it causes to end a relationship, and the regret. This theme haunts Blake for the rest of the record and he decided to showcase this with lush, smooth instrumentals, beautiful crooning vocals, and selective use of features who ALL deliver. SZA, Joji, J.I.D, etc. all carry their own weight on this record and make it even greater. These are combinations I never thought I would need, but hearing SZA over Metro Boomin on a James Blake record is the most surreal thing I have ever heard. To get weirder, the next song features James on a trap-like beat, where J.I.D decides to go off, leaving me no choice but to playlist. Overall, the entire album is an experimental masterpiece five albums deep into James Blake's revered career, and if you like any type of music, I recommend this too much.
In conclusion, October was a solid month for music. It was very top-heavy with three extremely solid albums that would all be deserving of Album of the Month. However, nothing really released besides these three records. As a result, this month's award goes to Blue Banisters by Lana Del Rey. We'll have to see what November brings.