OPXC Update: Rams Running Through Championship Season
Warinanco Park – October 26, 2021 – Union County Championship. It was here where the Rams would take on the county's finest in the most significant meet they had run at that point in the season. Due to injury or sickness, OP Varsity was missing both our 2 and 4 runners (Senior Jake McChesney and Junior Gus Russo); in their absence, freshman Declan Kelly and sophomore Rome Brachfeld were thrown into the mix, in hopes that they would rise to the occasion.  For this particular meet, the varsity team roster was dominated by underclassmen with 2 freshmen and 3 sophomores, making up the majority of the 7 man team. The young team was led by captain Ciaran Bowler, who was the first Oratory runner across the line (as he has been all year). He did this by running the 5,150-meter course (longer than the traditional 5k) in 17:31. After Ciaran, sophomore Tommy Hunt finished in a respectable 18:18, then sophomore Bobby Bajkowski in 18:59 (the fastest he had run this season), freshman Charlie Kline and Declan Kelly in 19:06 and 19:37, and closing with senior Alex Han in 20:00. OPXC's original goal was to finish top 5 in the county, but due to some key runners being absent, the top 5 spot that was desired was not in reach. The young team still managed to come in 7th, already proving to be a testament to the bright future OPXC has.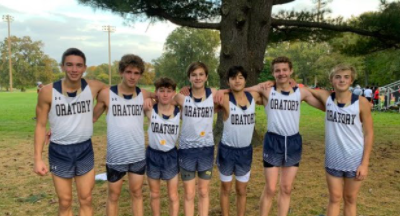 The varsity team members were not the only successful runners as OPXC's JV team also had quite the day. JV was led by young runners like sophomores Patrick Coniff and Conor Heffernan, as well as veterans of the sport like seniors Brian Kelly and Connor McDermott. JV, also being a relatively young squad, came 4th in the county, edging out schools like Governor Livingston, Scotch Plains – Fanwood, New Providence, and Jonathan Dayton. The 7 runners who were documented in the scoring came across the line in this order: Patrick Coniff, Brian Kelly, Conor Heff, Connor McDermott, Colin Reis, Tristan Knight, and Gary Saitta.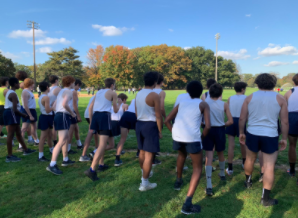 Counties was a strong performance, but definitely left room for improvement as OPXC approached the NJCTC (New Jersey Catholic Track Conference) Cross Country Championship, commonly referred to as the Catholic School Meet. The meet at Oak Ridge in Clark also landed on Senior Night, making the successes all the more special. JV kicked off the meet with a bang, placing 5th overall, as they were up against the whole conference. JV was once again led by Patrick Conniff who has been piecing together a very strong end to the season and has a good shot to run at varsity at States next Sunday. Close behind Conniff was Rome Brachfeld, who, along with varsity's Bobby Bajkowski and Tommy Hunt, is making the sophomore class a force to be reckoned with. Then came a majority of OPXC seniors, most running the last race of their careers. These seniors in the JV race were Max Terraciano, Connor McDermott, Andy Ashton, Gary Saitta, Chris Rieman, Jack "Chubbs" Callandriello, Sebastian Murray, and Thomas Donofrio.

Varsity continued their success, coming 1st in the Small School Catholic School Standings, beating teams like Immaculata and St. Rose who finished in 2nd and 3rd place (the team also beat Seton Hall, who was in the larger school Catholic race). The first place feat could not have been accomplished without the heroics of senior Captain Ciaran Bowler, who chopped off 44 seconds from his previous PR. His official time was 16:28 for the 5k (3.1 miles), a time that was faster than multiple of the 2-mile time runs by the soccer team at the start of the year; it also earned him an "elite performance" by mile split. This "elite performance" made him the third-fastest Oratory runner in history and earned him the honor of meeting the MileSplit US Second Team (Silver) Standard. Senior Jake McChesney was still battling illness, so Tommy Hunt was the 2 man once again, PRing in 17:49. Junior Gus Russo returned to the stage finishing 3rd for the Rams; his return was crucial to the team victory. Another crucial performance was done by Bobby Bajkowski, finishing in 18:31, 34 seconds faster than his previous time at Oak Ridge (19:05). Varsity was rounded out by the legendary brother duo of BK and DK (Brian and Declan Kelly), as well as senior Alex Han. All 7 of the varsity runners and all of JV were essential to the Rams win on Saturday, as every runner is important in terms of picking each other up in practice, and in the meets. This was reflected by the 24 personal records set on Saturday. Congrats on the win, boys.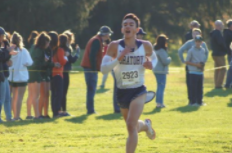 After the win, the day was not yet over as the team and their families stayed back to celebrate the seniors over Jersey Mike's, cupcakes, and almost every dessert known to man. Seniors Ciaran Bowler (Captain), Jake McChesney (Captain), Alex Han, Brian Kelly, Max Terraciano, Connor McDermott, Andy Ashton, Gary Saitta, Chris Rieman, Jack "Chubbs" Callandriello, Sebastian Murray, and Thomas Donofrio all have had lasting impacts on OPXC and Oratory in general. They will certainly be missed in the years to come, and, on behalf of OP, thanks for everything.