Junior Varsity Soccer Team Recap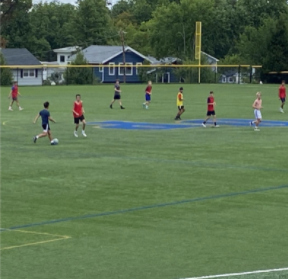 Coach DeHaven, head coach of the JV soccer team, recalls that they came with high expectations at the start of preseason. Oratory Prep's JV squad has had a bumpy season filled with ups and downs. As the season came to a close this past week (see Nicolas Marchisio's article on the closing game), there is a lot to look back on from this past season. As a JV player myself, this group of boys always made practices fun and the soccer season was an overall better experience with them. The JV team had a nice start with a win over New Providence but, from there, it seemed that there was a struggle to build chemistry and adapt to what they had. Many players came up from last year's freshman team and others moved on to the varsity squad. This left the players with new faces and a fresh start with Coach DeHaven.
The next few games were rough for the team, but as the season progressed, it was made evident that the team was coming along and that practices had paid off with Coach. Coach DeHaven stated in an interview that "results haven't shown our effort but I am truly proud of how we played these last couple games." In fact, the JV soccer team has had really close games where the opposition edges a victory but the team play is there. It was definitely shown in the massive victory over Cranford with a 2-0 win and in the draw, 3-3, against Union in the final game of the season. This all ended with a nice team party and some final words from Coach DeHaven. In an interview with Coach DeHaven, he said, "I'm really excited for the future of the program. We have a lot of great players in the program from juniors to freshmen. If we are going to be successful for years to come, we need to put work in during the off season." Only time will tell what this JV team will offer for OP soccer.