The Ram Returns: Who is Behind the Costume?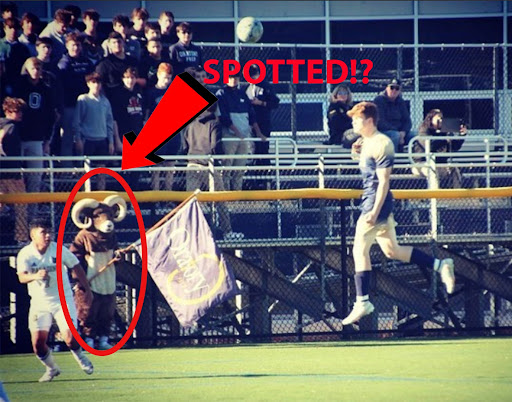 Many are aware of OP's outstanding performance this past Monday in their victory over the notorious Paramus Catholic in the first round of states. Led by seniors Jack Cuddihy, Matt Terraciano, and Alex Fudenna, Rams soccer put up a mighty 7-1 win. Along with an astonishing triumph, many also noticed the return of Oratory's very own Ram mascot, and are wondering who the man behind the mask is. Some are claiming it's an outsider, perhaps a professional. Others believe it to be one of Oratory's very own. 
There is very little information to be taken into account when figuring out who the Ram is. It is tough to gauge an accurate height as the Ram head might add anywhere from a couple of inches to a whole foot. One thing for certain is that the Ram at some point was probably an accomplished athlete, as sources cited him gallivanting at an alarming pace after every OP goal on Monday. Senior Emmett Gaffney claims the mascot to be a fellow Oratory student. His reasoning is that you could sense the Ram's clear emotional attachment to the outcome of the game. An outsider's reaction could not be nearly as organic. I for one agree with Gaffney, but if it really is a student, then where has he been these past couple of years and why has he chosen to resurface now. 
As with our big state game coming up against the infamous Seton Hall Prep, there have been rumbles on whether or not the Ram will reappear. Some say if he truly is back then he will be there cheering on the great men of OP as they tear up the field against SHP. 
At the end of the game on Monday, I was fortunate enough to get a quote from the Ram. I asked him if he had any advice for OP in their game against Seton Hall. The Ram paused for a second and then stated, "In the wise words of Coach Taylor, 'Clear Eyes, Full Hearts, Can't Lose'. "