Interview with Promising Freshman Charlie Kline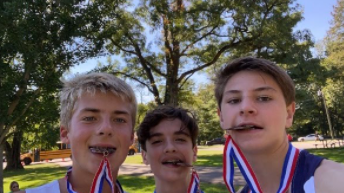 Cross country is one of the most physically and mentally demanding sports out there, and for incoming freshmen with a lack of experience, it is all the more challenging to stick with it. This is why it is important to have a returning runner to act as an inspirational mentor that takes new runners under their wing; for freshmen varsity runner Charlie Kline, one of those runners was me. Under astronomically great guidance, Charlie has blossomed into quite the runner, currently topping the Oratory Freshmen Power Rankings with times that have solidified him as a varsity runner. It is with this in mind that I have asked him these questions:   
How has it been, being a new member of OPXC?
Uh… It's been good. It's definitely been fun; it's hard, it's definitely hard. I didn't expect to run so much. The people really make the team great, and the good outweighs the bad. Even though the workouts and races are hard, the sense of accomplishment makes it worth it. 
What are the challenges of being on varsity as a freshman, with much less experience than other runners? 
I don't know what I'm doing, I have no clue how to pace, I just try to run with the guy in front of me. Older guys and people that have been running since they were younger have a lot more experience, and they know how to run a race, how hard to go out, and when to make a move. This is compared to me, where I am just out there running. 
How is the culture of cross country different from other sports you have participated in?
It's definitely intense, and everyone is rooting for each other. Even if you take someone's spot they want you to succeed. Specifically, the culture is unlike anything I've been a part of — you become good friends with the guys. We run together, struggle together, laugh together, and succeed together. From that, a great brotherhood is formed.
In what way have you felt inspired and enlightened by the strong leadership of your mentor, and personal hero, Tommy Hunt? 
He has definitely inspired me to run and challenge myself on varsity — he is a true leader that I trust with my life. There are a lot of great runners out there, but none quite like Hunt. I feel blessed to be graced with his presence each and every day (His words… and mine).
Lastly, what are your personal and team goals as the team gets further into championship season?
To just keep pr-ing (personal record), along with the main goal which is to score points for the team; take it one race at the time and place top 5 counties, maybe even beat a varsity Union Catholic kid (Charlie would have to run about 3 minutes faster for this to happen, which is an ambitious goal for an ambitious man).