College Football Recap from October 16th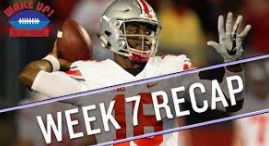 In a crazy week of college football, there were so many upsets and shocking games. First, on Friday, Clemson beat Syracuse 17-14 in a close game that ended with Syracuse missing a field goal to tie the game with 50 seconds left. Clemson has been a disappointment given the hype surrounding the team prior to the season as they are only 4-2 this season; however, they can still turn it around with many games left. In a big game, the #1 team in the nation, Georgia, faced #11, Kentucky, both undefeated in the SEC. Georgia was the dominant team, winning at home 30-13 and giving Kentucky their first loss of the season. 
This next game is the upset of the year (so far) as the 3-2 Purdue defeated the #2 undefeated Iowa. The game was at Iowa City in a sold-out crowd as Iowa looked to keep their hot streak going by beating the Boilermakers. But that was not the case as Purdue dominated and won 24-7. The Purdue defense played incredibly, getting 4 interceptions and multiple defensive stops. Purdue's coach, Brohm, had an interesting strategy on offense to confuse the incredible Iowa defense. He used 3 quarterbacks against them with Aidan O'Connell being the main man as he made most of the plays. He used Jack Plummer and Austin Burton to read options and quarterback running plays. Star receiver David Bell led the team with 240 receiving yards and a touchdown. The game also lead Purdue to now be ranked #25 in the nation with a 4-2 record. #13 Ole Miss came to play against Tennessee. The game was chaotic as Ole Miss won 31-26, but more action happened besides that. 
Tennessee was losing 31-26 in the 4th. They needed to get a first down with less than 2 minutes left but they were less than a half-yard short. The crowd was furious and started to throw stuff on the field. They threw water bottles and even some mustard bottles too. The game was temporarily suspended for 20 minutes then resumed and Ole Miss escaped with a win. With another upset, LSU defeated Florida 49-42 at home. Florida had no defense for LSU's run game which had been bad all year before the game. LSU's running back, Tyrion Davis-Price, rushed for 287 yards in 36 attempts and 3 touchdowns! This led the Tigers to victory. Oklahoma, Cincinnati, and Alabama all dominated their games in a blowout. Another wild game was North Carolina vs Miami. Both teams are struggling this year and need this win, but UNC won 45-42 in a dramatic fashion. Sam Howell, a big draft quarterback prospect, had a good game with almost 100 rushing yards, 2 rushing touchdowns, and 2 passing touchdowns. With less than a minute left, Miami was close to scoring in the red zone and threw an interception to a defensive lineman on a tipped pass which ended the game. With another crazy week of College Football, we can hope to see many more crazy weeks like this in the future.