What is Quizbowl?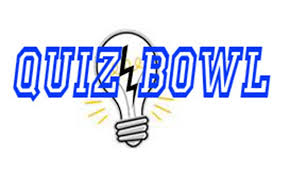 Have you ever wandered the halls of Bain after school and wonder why there's so much screaming and yelling erupting from room 208? Well, that my friend is one of Oratory's best clubs– none other than the infamous Quizbowl. But what exactly is Quiz Bowl? Well, Quizbowl is a Jeopardy-style club focused on sets of history questions. It's a great club if you have a love for history or just want to learn some interesting odd information.
Quizbowl has casual meetings in room 208 after school every Monday and a team that competes during the fall and spring. Quizbowl runs under the supervision of Mr.McCrystal and a team captain which has yet to be determined for this year. Quiz Bowl is more of a History Bowl than a general knowledge competition. But how does the Quiz Bowl operate? Two teams, usually from different schools, face each other over buzzers. The reader gives off questions mostly related to history but sometimes connected to other subjects. There are four rounds in a game. The first is simple: buzz in with your answer, you cannot discuss with your team for it's the individual answer for this round. If you get it wrong the other team can wait for the end of the question and answer. Round 2 is like the first except that the team that gets a question right gets a related bonus that only they can answer and that they can talk about together. Round 3 offers you three possible categories to choose from, each representing a speed round of 60 seconds for each team. Finally, Round 4 includes typically harder, wordier questions that encourage early and risky guesses. The earlier you answer the questions, the more points your team can receive. Points vary from 30-10, depending on when you answered the questions.
Quizbowl is a great club to have some fun after school, but also to compete. It's an amazing way to expand your history knowledge and learn new facts you didn't know. It doesn't even matter if you know barely anything about history, as long as you pay attention to the questions you will pick up stuff quickly. You can join us at any time during club meetings. If you have any questions you can ask either Mr.McCrystal or a club member for more information.