Judging Mr. McCrystal's Music Taste: Is It Good?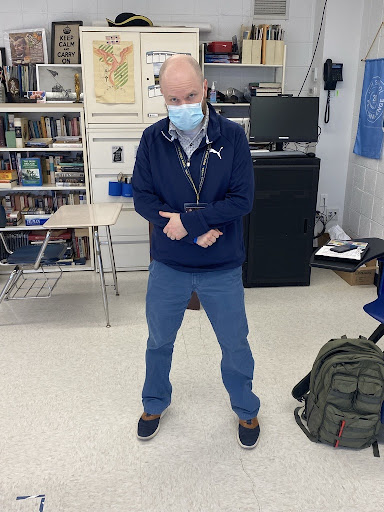 Hello, all. About two weeks ago I decided to embark on a musical journey unbeknownst to me – Mr. McCrystal's playlist. For context, I asked Mr. McCrystal to make me a fifteen-song playlist, after we had a drawn-out conversation about music, to review for the Omega. Now, after the time I've spent with these songs, I believe I have the definitive, objective, and correct rankings for all fifteen tracks. For surprise purposes, these songs will not be disclosed until the ranking. Let's get to the music!
Mr. McCrystal's music taste (worst to best):
Óró – Seo Linn
Coming in last place for the songs on this playlist, Óró is quite possibly the strangest song I have ever heard. Mr. McCrystal, what is this? The song is essentially a Gaelic battle cry, and that is not something I would want to listen to on a playlist ever in my life. I will admit the instrumental for the latter half is nice, but I never want to listen to this again.
Highwayman – Highwaymen
Next up, another bad song. Highwayman isn't actually bad per se, but it's just not my music. It's a cover of a classic country ballad by Jimmy Webb about highwaymen and reincarnation? It's an odd track, but I will give the outro credit for being great.
How Soon is Now?
I just don't like this song that much. It's significantly better than the last two, and the vocals on the chorus were great, but it's not my cup of tea. It's very low on this list because I don't find anything on the song interesting enough to carry on for a whole six and a half minutes.
Hypnotize – Notorious B.I.G
I know this is a controversial opinion, but this one landed this low on the list because I'm not a huge fan of boom-bap. Biggie is an amazing artist, but this is not one of my favorites from him. Don't get me wrong, it's a good song, (the only bad songs on this list were the last two) but I just can't get into it.
Atlantic City – Bruce Springsteen
This song was good. The instrumental was somber, mainly consisting of a guitar loop. Bruce Springsteen's vocals were a definitive highlight of the song, making me very emotional. The harmonica's crazy too, but we won't get into it.
The Downeaster "Alexa" -Billy Joel
I can not lie. This song is flames. Depending on my mood, this song can be great or a little less great, but after many listens, I decided this was a great spot for it on the list. It's a classic Billy Joel song, and it honestly sounds exactly as you'd expect from Billy Joel. Nevertheless, The chorus is great, the verses are even better, and just overall a big sleeper on this list.
Regulate – Warren G & Nate Dogg
Nate Dogg on the hook? Count me in. While I don't care all that much for Warren G's verses, his voice fits very well on this beat. His flow is immaculately smooth throughout the whole song, so I need to give credit where credit is due. Not to mention the smooth production with Dr. Dre sampled drums. Fun fact, Dr. Dre drums are probably my biggest weakness in rap; I LOVE them so much. However, the show-stealer here is Nate Dogg, an absolute hip hop legend who delivered one of his best performances on this song. His hook is so smooth and so infectious it reminds me of an amazing artist gone too soon.
Ebb and Flow – Larry and His Flask
Not my usual cup of tea, but this song is a certified country banger. The song is incredibly fast-paced, the instrumental hectic, and the vocals are abrasive. This song is the most hype country song I've ever heard, and the chorus is just a testament to amazing songwriting. This is the part of the list where I would recommend all of the songs going forward.
Going to College – Blink-182
This is just a classic Blink-182 banger. The vocals are great, the guitar is infectious, and Travis Barker kills it on the drums. Overall, it's a super fun listen, and I have nothing but praise. This is a very feel-good song that I definitely recommend for anyone who loves current pop-punk.
None Shall Pass – Aesop Rock
Wow, was this a surprise! I saw the name Aesop Rock on the playlist, and I started laughing because I was expecting something more like Logic, but, wow, was I wrong. This song has an incredible flow and cadence to it, and Aesop Rock never stops for a breath, and it's ridiculously catchy. The beat is smooth, his voice fits amazingly well, and the sample is just ear candy. The only con on my mind is I have no clue what he is saying. He goes very fast and it's basically just a lot of rhyming words, so I didn't take away much substance from it. However, Great rap track.
Calling all skeletons – Alkaline Trio
We have now entered all the amazing songs. "Calling All Skeletons," is a pure rock record, and I haven't been able to get the chorus out of my head for about a week. The lead vocalist on this song went absolutely ham on his verses, which are somehow better than the chorus itself. It's just an absolute banger, and you need to hear this.
All My Friends – LCD Soundsystem
This one was a grower for me. On first listen, I didn't like it much at all, but as you can see, it's now one of my favorites. LCD Soundsystem outdid themselves with this song, and it is probably one of my favorite examples of songwriting I've heard on a non-rap song. The song, over four verses, a high-intensity instrumental, and a monumental chorus, tells the story of a friendship falling apart. This song resonated a lot and was just genuinely amazing.
Timberwolves at New Jersey – Taking Back Sunday
Easily my most-listened-to song out of the fifteen I was given. Something about this song is so undeniably catchy. The vocals are the best part of this, which is ridiculous considering how good the guitar is on this. I've looped this on my own playlist for the past two weeks, and it is definitely creeping into my most-listened-to songs this year. The second verse is one of my favorite musical moments as of recent, and I highly recommend this track. The only thing keeping this track from being higher on the las
Maybe I'm Sorry – Three-Legged Fox
When Mr. McCrystal first recommended this song to me, he said his favorite part was the guitar riff. And, my oh my, was he right. I don't think words can describe how delicious this guitar riff is. It hits with the most important parts of the chorus, creating a feeling I did not know I could feel. At the end of the song a daft-punk-like synth comes on, and at that point, I lose all control over my limbs. The drums that kick in when the instrumental gets limited actually give me chills. I have no issues with this song, and it is practically perfect.
Pursuit of Happiness – Kid Cudi
The one song that I already knew. "Pursuit of Happiness," is quite literally one of the best songs ever made. Over the course of its five-minute runtime, Kid Cudi depicts a life of substance abuse, masked depression, and the pursuit of happiness. It's a somber, but uplifting track that never fails to comfort me when I need it the most. Cesar A. Cruz once said, "art should comfort the disturbed and disturb the comfortable." This song follows that quote like no other. This tune is meant to comfort those who have gone through or are going through a dark period of life and can be very off-putting to those who have not. Overall, an absolutely amazing song.