OP Puck Preview: Bringin' the Grease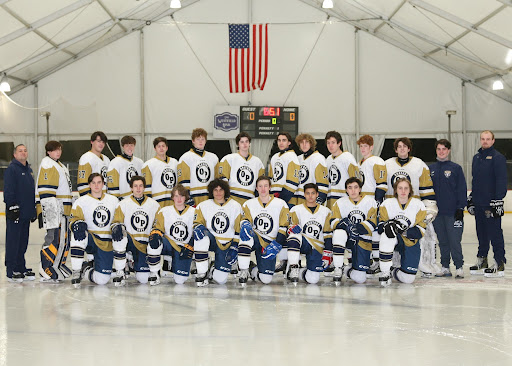 As the new dawn falls upon Oratory Prep and we turn our calendars from summer to fall, the Oratory Prep hockey team returns to the weight room for their first team lift of the year. OP Puck will dust off the 45-pound plates and prepare to break every weight lifting world record known to man. We will take a look at the upcoming season for the team as they look to dominate the Kelly Conference and take home some hardware.
The team enters the year as a perennial Kelly Conference powerhouse looking to maintain their dominance as new faces are planning on stepping up and filling vital roster spots. The team is led by its seniors: Gerard Fargiano, Tyler Gobel, Matt Clark, Matt DeAngelis, Niles Villaverde, Jack Wilson, Garrett Hall, Avi Tahl, and Kieran Donnelly. Entering into battle this season alongside these fearless leaders is a group of greasy, feisty, and talented underclassmen lead by the likes of juniors Brandon Franks and Mark Jacobello and sophomores Ronan Davis and Andrew Temo– just to name a few. 
After losing 8 seniors last season, Coach Tafel quickly replenished the team with young skill by lassoing in ten new freshmen into the program. These freshmen look to bring a jolt of youthfulness into the locker rooms of Union Sports Arena and give some impactful minutes on the varsity level.
Despite OP puck being the most feared of all Oratory sports teams, there were a few questions circulating around the team this off-season. The most prominent of these questions was who going to be the big man in the pads this year after the position was left vacant following the prior season. These two men did their best Catness Everdeen impression (except they are better looking than JLaw) and volunteered to stop some flying rubber cylinders. Senior Kieran Donnelly and junior Colin Beard have been working tirelessly to become two of the top netminders in all of Union County. Word on the street is that other teams are having trouble finding kids just to try out because everyone knows no goals will be scored against the Rams with one of those guys in net.
I was granted exclusive access to the hockey team and was even able to have a sit down with a few players.  First I spoke with senior centerman Gerard Fargiano and asked him about how he felt it was going to be now that fans would be back in the stands.  "The boys will be buzzin' for sure," he replied, "It is just so much of an advantage to have guys in the stands getting rowdy and cheering us on after a massive hit or a nasty goal." I also spoke with junior winger Brandon Franks about his expectations for the season. "Bring home some hardware" as he so eloquently put it.  The team has big expectations for themselves this year and I firmly believe that if they put in the work both on and off the ice, they could be some new banners hanging in the rafters very very soon. 
During OP puck's first day in the weight room, I got the chance to sit down with, head coach, Mr. Sam Tafel, and ask a few questions about the upcoming season. When asked what he was looking forward to the most with the upcoming season, Coach Tafel was most excited about being back together as one program that was able to train and practice together. He preached that the program was "not just a JV team and a varsity team, but one family." While discussing what Coach Tafel felt would be the teams biggest challenge this year he spoke about not being ordinary, saying that it is easy to fall into the idea that you have enough talent to win based just on that, but rather the team needed to play a structured game that would be difficult for opponents to plan against on both the offensive and defensive ends of the ice. Finally, we asked what he goals for the upcoming season were. He told me that he wanted to "do some damage" and also get better. "I like to win, but when we work hard, respect the culture, and strive to be better players, students, and people there is nothing more I could want out of a season." 
All in all, OP puck is a force to be reckoned with this year not only in Union County but in the entire state.  While the season does not start until November it is great to see the team starting to put the work in now as they look to make a run at both a Kelly Cup title but a state title as well.