Album of the Month: June 2021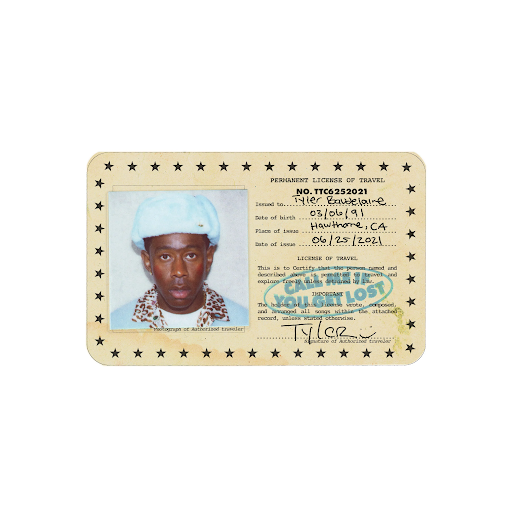 The month of June has breezed by as quickly as it began and in its wake are multiple albums from extremely popular artists. To start off the month, two extremely popular rappers, Lil Baby and Lil Durk released The Voice of Heroes, a trap album released June 4th. Durk and Baby bring out the best of each other and have some good chemistry but the production and songs overall are nothing special. Albums from Pi'erre Bourne, Migos, and Polo G followed The Voice of Heroes shortly after all releasing June 11th. These three projects were shortly followed by projects from Doja Cat and Tyler, the Creator. All of these artists, save Doja Cat, are artists that traditionally release hip-hop and rap music. June was bound to be a great month for hip-hop due to the sheer amount of projects from mainstream artists. These artists capitalized off  the market for popular summer rap music. The month was capped off by a true contender for Album of the Year, in my opinion, CALL ME IF YOU GET LOST by Tyler, the Creator. Tyler blessed us with June's Album of the Month on June 25th, following one single, LUMBERJACK released only a week prior to the project's release. CALL ME IF YOU GET LOST is a conglomeration of all of Tyler's previous works into one project and it's fantastic. Overall, June was a great month for music, especially for hip-hop. Let's get into the albums!
It's only fair to start off with this month's Album of the Month. CALL ME IF YOU GET LOST is an incredible, genre-bending project. Following an already revolutionary album for Tyler, IGOR, which saw him break from traditional rap or pop music, he created an album with so little attachment to any genre that labeling it would be insulting. IGOR was a synth-heavy, melodic, experimental masterpiece from Tyler, in which it sounded like a neo-soul, pop-inspired version of 2015's CHERRY BOMB. In comparison, CALL ME IF YOU GET LOST sounds like a combination of all of Tyler's previous projects, fusing his rap music with the experimentation and creativity of his past three projects. Tyler, himself, stated that this is the album he has always wanted to make, and it very clearly shows. With Tracks such as "SIR BAUDELAIRE," "CORSO," "LEMONHEAD," "MASSA," and so on being hard rap tracks (a clear departure from IGOR). While, on the other hand, "WUSYANAME," and "SWEET / I THOUGHT YOU WANTED TO DANCE," are tracks that embrace neo-soul, r&b, and pop aspects of his music. Tyler on this album makes use of the best writing of his entire career, packing every verse with metaphors, punchlines, and ego, which add to the character embraced in the album. Sonically, it is his most diverse, entertaining album, leaving enough for people of different tastes to enjoy. With all of that said, onto the core themes.
It is very clear from the beginning of this album that it follows a few key themes. The album is driven by the ego given to Tyler by the lavish lifestyle he enjoys with fame. This includes the luxury of being able to get whatever he wants and go wherever he pleases (travel being a key theme). Accompanying Tyler on this journey of travel and lavish spending is DJ Drama, an iconic DJ known for his Gangsta Grillz mixtape run. DJ Drama does ad-libs and speaking interludes throughout the album alongside Tyler, acting as a supporting character of Tyler's endeavors. Now that we have the protagonist and his companion in the album in order, we can get to the other main characters. The other side of the lavish themes mentioned earlier (money and travel) are how Tyler uses these to fill the void caused by the lack of his real goal – love. This is heavily explored in the last verse of "CORSO," where he raps about his selfish urge to take this woman who belongs to someone else, and how bought a boat, "cus I'd rather cry in the ocean." Tyler, throughout the album, pursues this girl who is perfect for him, however, is dating one of his other friends. The girl knows that Tyler is the man for her, but she's working things out with her boyfriend, creating the central conflict of the album. Tyler spends the whole album in luxury, but this persistent thought of his future with the woman he's infatuated with creeps up (CORSO, WUSYANAME, SWEET / I THOUGHT YOU WANTED TO DANCE, & WILSHIRE), until they finally cut off this thing they have. In the end, however, Tyler puts his ego back on for one final track, gloating about everything he has been able to achieve – everything except love. All of these themes, production, lyrics, and, of course, the combination of them all into one leads to an extremely convincing Album of the Month trophy.
Once Tyler's album was released, it was a one-man race for Album of the Month. However, I still spent time listening to more albums trying to find some summer bangers. I'll start the second half of this article by saying none of these albums really had a chance for Album of the Month. June showed to have the most distant gap between the first place album and second place album but there were still some good albums that dropped besides CALL ME IF YOU GET LOST. One of these albums was Doja Cat's Planet Her, a "kaleidoscopic" pop album according to critics. Planet Her is an ode to modern pop music in many ways and is centered around Doja Cat's confidence in herself.  Doja Cat has been known for being a bold personality and that is on full display in this project. Planet Her is full of catchy pop tunes featuring top-tier artists such as The Weeknd, SZA, and JID. All of the tracks on this album provide a nice tune and great production but most songs seem to blend together save a few standouts such as "You Right" and "Kiss Me More". Overall, this was a good project from Doja Cat and solidifies her spot among the pantheon of modern pop artists. 
On the flip side of catchy summer pop tunes, Polo G released his third studio album Hall of Fame on June 11th. I've never been a huge Polo G fan but I can buy into the hype on a few of the tracks on this project. Hall of Fame has features from tons and tons of big-name rappers in the industry including Lil Wayne, DaBaby, Young Thug, and Roddy Ricch. "RAPSTAR" the lead single off this album was, in my opinion, the strongest track and showed Polo G's lyricism over great guitar-based production. The hook on "RAPSTAR" is also very catchy and I can definitely see this song being among radio earworms this summer. Polo G also showed off his rapping skills this June on a feature on "Malibu" from Migos' new album Culture III. Culture III is also one of the solid albums released this June. However, Migos suffer from something that most current artists suffer from and that is that the songs all blend together and the album doesn't seem to be cohesive or consistent. Including the five songs added to the deluxe of Culture III, the project is 24 songs long and closer to two hours than it is to one. More isn't always better and some artists don't seem to know that or if they do, they don't capitalize off of it. Besides that, Culture III was a good project from Migos. Mainstream drops in the hip-hop industry were needed to set the stage for the summer of 2021 and Migos and Polo G did just that, providing some nice bangers along with some filler tracks.
The final album I would like to talk about is The Life of Pi'erre 5. Pi'erre Bourne has always been known for being an incredible producer but he has brought his vocal and rapping skills to the table on multiple occasions. The Life of Pi'erre 5 is the 5th addition in Pi'erre's projects and continues his theme of occasionally having hits but being very inconsistent. The hits are earworms but the other tracks are very inconsistent. Most of these tracks just have a feel-good atmosphere especially "Drunk and Nasty" and "HULU" and some tracks like "Switching Lanes" have been in my head since the album was released. Overall, I would recommend this album the most as opposed to Hall of Fame and Culture III because of its melodic and catchy tunes. It's insane how good the production is on this project and I would definitely recommend it to anyone who wants to get more into melodic hip-hop.
With that being said, Album of the Month for June is all wrapped up. It wasn't necessarily close but I can pretend it was. CALL ME IF YOU GET LOST is a serious contender for Album of the Year. We'll have to see how the rest of the year turns out. Many mainstream artists like Drake, Kanye West, Kendrick Lamar, and Frank Ocean have all been expected to drop a project this year but none of them have yet. We are either in for an insane amount of mainstream drops this summer or we will prove to be disappointed once again. We'll just have to wait and see.