OP Baseball Wins Third Straight Over Brearley
Oratory topped David Brearley at 10-3 on Tuesday. It was the third straight win for OP, as they are turning around their less-than-stellar start to the season.
Sophomore Matthew Seelagy got the starting nod– and pitched a gem. Seelagy went 6 innings, striking out 6 and only surrendering 2 ER.
The offense was just as good, however.  In the bottom of the first, OP jumped out to an early lead thanks to a Logan Drone homerun. Brearley would tack on 3 runs in the top of the 3rd, thanks to a single and walk. In the bottom of the 4th, Jack Cuddihy laced a triple to the left-field fence, scoring Gobel and knotting the game at 3. However, the game would not stay tied for long. In the bottom of the 5th, a Logan Drone single scored O'Dowd and set the table for a 3-RBI Jack Greco inside-the-park homerun. Junior Tyler Gobel would score Colandrea on a single, as well. Drone would hit another home-run (this time inside-the-park) in the bottom of the 6th, before Kyle Hart would close the door in the 7th (and hit a massive home run in the top of the same inning).
Logan Drone was, by far, the offensive player of the game. Drone went 4-4 with 2 HRs and 4 RBIs. Greco had 3 RBIs as well.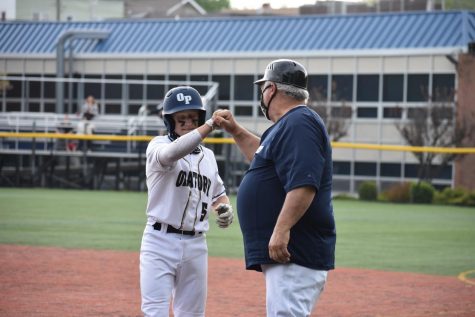 It was the 3rd straight win for OP, who is quietly starting to heat up before Thursday's game vs Linden and Saturday's game vs Summit.
Go Rams!