Jacob deGrom is Appointment TV
Jacob deGrom is by far and away the best pitcher I have ever seen– and I think most people would say the same. In his most recent outing against Washington, he pitched a complete-game shutout with the following line: 9IP, 2H, 0BB, 0ER, 15K. Just another day at the office for the 2x Cy Young Winner. It is getting to the point where whenever Jake pitches, those are my plans for the evening. Allow me to throw out some stats:
deGrom has a 2.00 ERA in his last 80 starts
He has faced 101 batters in 2021 and struck out 50 of them
His ERA+ since 2015 in 153, 199 since 2018
In his last 518 innings, he has 678 Ks
deGrom has a higher WAR than *all* starting pitchers on the Tigers, Angels, Giants, Marlins, White Sox, Royals, and Blue Jays
Those are just some of the dozens of stats to quantify Jake's greatness. In my generation, Scherzer and Verlander each have had longer sustained success, but not at the quality of deGrom. For the sake of brevity, let's use Verlander as a control. In Verlander's prime (2010-2012), he posted a 2.70 ERA, ERA+ of 150, and K/9 of 8.9–really good. But let's take a look at deGrom. From 2018-2020, he has an ERA of 2.10, ERA+ of 190, and 11.6 K/9.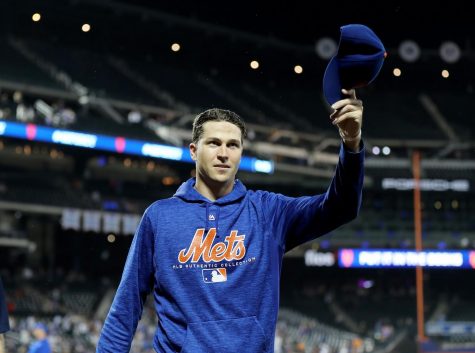 So, it is clear Jake is probably the best of this generation (there is definitely a case to be made for Kershaw, who also has deGrom-esque numbers), but numbers can only say so much; the eye test is very important too– and Jake passes that. First off, when he comes set with his glove in front of his mouth with his eyes peering above the laces, it is about the scariest thing a hitter can see. I have never seen such a dominant pitcher take the mound. His stuff is overpowering. He has a fastball that touches 102MPH, higher than most closers, a wicked slider at 94MPH (for reference, the average MLB fastball in 2019 was 93.1) that moves 8 inches off the plate, and an equally deceptive change-up that runs in on right-handers. Seriously, what do hitters think before stepping into the box? Do you just guess fastball and hope to not look stupid? How do you prepare for a fastball at 100, slider at 94 that breaks away, or a change at 92 that breaks in on you?
What is very interesting about deGrom is how he is only getting better with age. In 2015, his average fastball velocity was 95.6–very solid. It actually dipped to 93.9 in 2016 before going to 95.1, 95.9, 96,9, 98,6, and 98.9 in 2021. Just insane. His offspeed velocities also increased from about 87MPH to 91.5MPH. His K% is laughable. In 2015 it was 27.3, then 23.7, 28.9, 32.2, 31.7, 38.8, and 49.5 in 2021. He is throwing harder in his age 33 season than he was in his age 27 season– and by a lot. Continuing to use Verlander as a control, his average fastball velocity in his age 33 season was 94MPH.
As I said, what Jake is doing right now is just stupid. His stuff is ridiculous and is only getting better. Parents, make your kids watch, kids make your parents and grandparents watch because we are literally witnessing greatness. And it does not come very often.