Eminem Show Review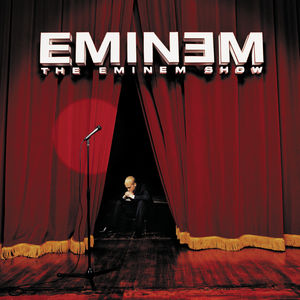 As the Eminem show nears its 19th anniversary, I thought it was time for a song-by-song review of the, sometimes overlooked, best Eminem album. This album contains many of his best songs, best instrumentals, and best verses, along with being my personal favorite.
CURTAINS OPEN: Just a skit, but my favorite Eminem album aesthetic is the stage performances given on The Eminem Show and Encores.
WHITE AMERICA: Keeping all of this in mind, no one knew what to expect for this album. So Eminem decided that to open this album, he would address something super obvious, but not talked about by him much – his race. On White America Eminem acknowledges how far his race brought him and how many white fans flocked to him for being a rapper that looked like them. Throughout an abrasive, 5 minute, conscious spew of rhymes, Eminem opens this album to a perfect start.
9/10
BUSINESS: One of the few songs produced by Dr.  Dre on this album, Eminem breezes over this instrumental, discussing the state of hip hop, among other things he wants to address. The point of the song is essentially him reclaiming his throne, albeit having been gone two years from the game, he knows no one can touch him. This sounds like a victory lap after making two classic albums and creating a third, Eminem sounds comfortable and at his best, knowing he can't be beaten.
9/10
CLEANING OUT MY CLOSET: The self-produced anti-ballad towards Deborah Mathers. Although this is a diss track, Eminem structures it very interestingly. Eminem, instead of attacking his mom immediately, takes two verses to give context and explanations to his anger. After having filled the listener in, Eminem then takes the third verse to attack her, all with basis. There's no meaningless diss just for the sake of being rude, they all have context and a wave of deep-rooted anger, which Eminem successfully makes the listener empathize with, from the beginning. This song stands as a classic in his catalog, and all for great reason. The display of raw emotion, effortless flow, and the calculated format of the song have allowed it to stand the test of time. 
10/10
SQUARE DANCE: In a different vein from White America, square dance is a track based on social commentary, and it's basically Eminem saying, "let's ignore all the bad in the world and just square dance with me." One of the more light-hearted tracks on the album, with the exception of certain lines, taking them a little more seriously. Over a boom-bap drum, Eminem sails on the beat, maintaining a consistent flow filled with intricate rhymes about the status of our country. He comments on the draft, 9/11, and his own position in society. Entertaining throughout all 5 minutes, Eminem continues to prove he can keep the listener's attention.
8.5/10
The Kiss (Skit): Although it's just a skit, it's my favorite skit of all time. Perfectly leading into the soldier, The Kiss tells the (true) story of Eminem seeing his wife make out with another man, and him rushing to attack him. Perfectly acted out, with a seamless transition into soldier, makes this an essential part of the album.
SOLDIER: Eminem went through a lot during the recording of this album, one of the most prominent being his assault charges on Guerrera, the man with who Eminem's wife cheated on him. Soldier stemmed off the anger this instance caused him, being one of the more aggressive cuts on this album. During his early career, Eminem's albums were like a therapy session for him, and this song is a clear example, with the anger being heard in his voice. Over a smooth beat, Eminem counters it with an aggressive and louder than usual delivery, resulting in an incredible display of anger, fortitude, and determination.
10/10
SAY GOODBYE HOLLYWOOD: Closing the trilogy that started with the Kiss Skit, SGH is to Soldier what the calmness after a storm is. Eminem cooled off, and now he's left with all these thoughts eating at him. He realizes he can't trust Kim, realizing he's all by himself. It hits him how real the fear was of being arrested over the assault charges, and how that would have rendered Haley fatherless. Fame and the limelight are not what he thought they would be in any sense. It's caused so many problems for him that, in a sense, he wants to, " Say Goodbye to Hollywood."
10/10
DRIPS: Unfortunately, we've arrived at Drips. While in no way a bad song, it actually being pretty good, Obie's verse is universally considered as disgusting, going into way too much detail about this woman. It's unfortunate because the beat is a highlight on the album, and Eminem proves that so with his verse, honestly being one of his better verses. However, due to the rough nature of Obie's verse, the song is almost unbearable for the first two and a half minutes. 
6/10
WITHOUT ME: The end of the trilogy beginning with My Name Is, Without Me is the poppy lead single of the Eminem Show. Fortunately, it's the best out of his three lead singles. Filled with charisma and wit, Eminem delivers an incredible first verse and follows up with an enjoyable banger. Loaded with pop culture references, Eminem comes after everyone relevant, albeit much more light-heartedly than on the MMLP. Although it drags a bit too long, this song is a respectable mid-album cut. Regarded as a classic single among his discography, this song deserves much more recognition than My Name Is or The Real Slim Shady.
7/10
PAUL ROSENBERG SKIT: Relatively meaningless skit, although a great transition into the next song.
SING FOR THE MOMENT: Eminem's best song. SFTM samples the classic Aerosmith song, Dream On, to create a moody atmosphere for Eminem to deliver his message. SFTM was made for the fans. This is a song Eminem made for the kids who have been through it. Whether they were bullied, had a bad family life, or are dealing with mental health struggles, Eminem made this knowing how it feels to have music be your only escape. He acknowledges his responsibility as an entertainer, and how much kids look up to him. He details the struggles with this, as no one's perfect, especially not him. Elaborating on the struggles of being controversial, he describes how law enforcement, journalists, and the public are always waiting for his next mistake. He wonders how if he really is how the media portrays him, how would he be able to raise his daughter? The song shines the brightest during the third verse, as Eminem describes the parts of the industry that make him uncomfortable, such as profiting off of his life story. Then he begins to address the kids that look up to him explaining how he pours his heart into his music so that maybe, he can help that one kid have enough confidence, or make it through the day, or maybe even save his life. A genuine masterpiece, and the best Eminem song to date.
10/10
SUPERMAN: one of the most misogynistic songs ever written, Eminem describes his encounters with women and how uninterested he is in finding love. This song is most likely the reaction to his break up with Ex-wife, Kim, as he mentions her but doesn't even name her. Throughout the song, he presents himself as a man who wants nothing but a physical relationship, and how relationships are a complete waste of time for him. He won't humor anything more than something casual, and he wants that to be understood and mutual. He pokes jabs at the women who pretend to want him for him and not for his money or fame and will do anything to attain it. 
8/10
HAILES' SONG: one of my personal favorites and one of Eminem's most emotional songs. This is Eminem at his most vulnerable. Eminem wasn't even going to include this song on the album until Dr. Dre pressured him to. Eminem breaks from his usually faster tempos (the album average being 100bpm, while this song is 80) to deliver a beautiful song about his daughter, where he mainly sings. The first two verses and all choruses are sung by Eminem, and while, admittedly, he's not the best singer, it's powerful. He vents about the stress of his job, his wife, the world, and many other external factors, which are all insignificant when he sees Hailie. The last verse is one of my favorite of his ever and he raps, maintaining the main themes, delivering an excellent song.
10/10
STEVE BERMAN: A good tradition from Eminem albums.
WHEN THE MUSIC STOPS: Crew cut from Eminem's former band, D12. Takes a mildly serious tone, with Eminem delivering an all-time high verse at the beginning. Swifty McVay follows up immediately with a more aggressive tone, suiting the beat perfectly. Kon Artis, my favorite member of D12 besides Eminem, delivers, maintaining the tone. Kuniva is slightly more "playful" delivering a verse with references to violent acts. Proof has one of the better verses on the song, having arguably the second-best delivery. Bizarre finishes with a, no pun intended, bizarre verse, easily the funniest, mentioning how listening to music got him into a load of trouble in his life. Solid crew cut, and enjoyable in the context of the album.
7/10
SAY WHAT YOU SAY: Two giants battling at the mic for five minutes. Honestly, seeing the Dr. Dre feature sets expectations, and the song doesn't fully deliver it. Eminem is in his rapping element, keeping the aggressive delivery from the last song, however, Dre is more or less mediocre. However, when they interchange lines, the song is at its best. Not as good as should be, however, it is a great duo effort regardless. Good Chorus.
8.10
`TILL I COLLAPSE: Eminem's workout song. Although it's often disregarded as just this, it's an obvious highlight on the album. Eminem is consistent with the aggressive tone the latter half of the album has kept, and delivers one of his better songs, just before the album ends. He vents his frustrations, anger, and thoughts all on a Nate Dogg featured song, resulting in a modern classic.
9/10
MY DAD'S GONE CRAZY: The album closer. This song is one of Eminem's best outros to an album, and in my opinion, second to only the closer to the Slim Shady LP. This song perfectly summarizes the entire album experience all in one song. Eminem, over a playful Dre beat, breezes and has fun for the first two verses. He seems relaxed and confident in the work he just completed. He makes fun of his mom, Dr. Dre, and other rappers, touching on the repeated themes of the album. In the third verse, the beat takes a minor turn and the song becomes slightly more serious. He, for the last time, addresses his place in the rap game, reaffirming his king-like status. The song is capped off by a Hailie Jade (his daughter) feature, making for the perfect final feature of the album, as she was such a constant throughout. It is one of Eminem's best performances on a rap song, and my personal favorite.
10/10
FINAL THOUGHTS: After the highly offensive critically acclaimed Marshall Mathers LP, nobody knew what Eminem was going to do next. Could he keep this act up? When were the shock lyrics going to grow old? How is he going to top it? Eminem had all these expectations on him when creating this record, however, he subverted expectations completely, creating a rock-rap album reliant on clever bars, incredible wordplay, and an unmatched flow. This album was yet another diss to critics, but this time it came in the form of proving he didn't need to shock people to generate buzz. Eminem toned down the controversy completely for this album and created an honest, personal body of work, resulting in his best album yet. After TES, Eminem has never rapped the same, nor nearly as good as he had on his first three albums. TES capped off an incredible four-year and three-album run, where Eminem was on top of the rap and pop culture world. Eminem was larger than many of us could even begin to fathom today, at a Drake-like level. This is the final goodbye of the old Eminem, whether you loved him, hated him, or ignored him.
ALBUM SCORE: 10