The Winter League: OP Quiz Bowl's Victories and Defeats
On the Sunday of February 21, our Quiz Bowl team here at Oratory Prep competed in the Winter League of the National History Bowl. The team consisted of Ryan BerghThies, Nicholas Scantlebury, Jaden Medina, Brian Kelly, and myself (Andrew Ashton). As usual, club captain Ryan BerghThies was the MVP, and Nicholas Scantlebury in particular showed off his skills as well. While our 2-3 win-loss ratio was not as good as our 6-4 Nationals Preliminaries showing or our 2-0 showing in our 11/14/20 competition, we still faced difficult opponents, won good victories, and had great buzzes. Despite not qualifying for the octofinals nor this round of nationals, the OP Quiz Bowl team was, is, and will remain undaunted.
For our readers who might be unacquainted with the workings of Quiz Bowl and our competitions, please allow me to briefly explain. Quiz Bowl/History Bowl is a team activity where a team tries to win more points than their opponent by answering questions correctly before their opponent can. Each match during a competition has four rounds. The first round (the standard round) involves individuals "buzzing in" (we used online buzzers for this virtual competition) with their answer to a question. If they get it right, they win ten points for their team. If they get it wrong, their team cannot answer that question again, giving the other team an advantage because they can hear out the whole clue. The second round (the bonuses round) is the same, but the person who got it right gives their team an opportunity to answer a bonus that only their team can answer and that the team can discuss together first. The third round (the speed round) gives one team a series of fast questions all in one category that only they can answer; if that team gets a question wrong, the other team has a chance to answer the "bounceback". Of course, the other team then gets a shot at their own category. The fourth round (the final round) is typically the most chaotic and either the most exciting or most depressing. The fourth round is just like the first round, except the earlier you answer the question, the more points you earn. Each question can earn up to 30 points, although after the first bit of the question it downgrades to 20 and then 10. This vastly incentivizes fast buzzes and risky gambles…many a game has been lost and many a comeback has been made in the fourth round. In my December 18 article on Nationals, I go into more detail, so if this explanation interests you, feel free to read that segment.
If any of this article interests you, please consider joining the Quiz Bowl team. Despite the name and the sometimes-intense competitions, Quiz Bowl is casual, rewarding, and genuinely fun. Our club, helmed by the always-amazing Mr. McCrystal, would be happy to have you.
The Showdowns
To begin the day, our team would face a team named Centennial A at 11 AM on Google Meet (I felt sorry for the West Coast teams, whose first matches were 8 AM in their timezone). Ominously, only a single person awaited us. You see, teams made up of one player are often a bad sign for their opponents. Usually, a single player who forms their entire team is well-rounded and unusually smart. Furthermore, single players have a strategic advantage: they do not have to wait to answer a question for fear that they might mess it up and hurt their team if a teammate might've gotten it right. As a single-player, you can answer as soon as you have an inkling and not worry about ruining the fun for others. Of course, these players also need to take the corresponding lack of help from teammates. In the end, this battle would be one-sided…in favor of the single-player. The score was already 70-160 by the end of the second round in favor of Centennial A. In Round 3, both teams just barely stopped the other team from "sweeping the category", which awards an additional 20 points if a team gets all eight questions right. It did not really matter though, as the score was already 140-240 in favor of them, which was immediately followed by a very successful fourth round for the other team. In the end, the score was 160-380 for a Centennial A win. The first match was certainly not the ideal way to start the day of competition. However, while I cannot speak for my teammates, the loss did not sting much for me. Our opposition, after all, was highly skilled, with Centennial A continuing on to get fourth place in the playoffs for the day. My morale was still good as we prepared for the second match.
The second match, against Newton North A, was much closer and more engaging. Our guys had a good, friendly rapport with the other team from the start. They led us 30-70 in the first round, but by the second round, their lead was much more narrow at 100-120. They swept the category in the speed round, earning 100 pounds, but we did well enough (60 points) that the score was at 160 to 220—a quite-winnable game. It proved to be set-up for a fourth-round with razor-thin margins between victory and defeat. Oratory scored 30, 10, and 20 points in quick succession, making the score tied. Alas, as can happen in the wild fourth round, Newton North A got a 30-pointer, putting them ahead but technically still in reach. By following up with a 10, they made a victory for Oratory mathematically impossible; while both teams earned points after that, the game had been decided. In the end, it was 230-300 for a Newton North A victory. Still, it was a very fun and very close match.
The third match was against Moorestown Friends, a Quaker school. This match offered us a much-needed chance to flip the script of the day, and so we did. The match wasn't particularly close, as we left them quaking in their boots with a 360-150 win for Oratory (sorry, they were nice, I just wanted to make that bad pun). Fun moments abounded, including a bonus question we conferred on where I pulled out my oyster knowledge for the points. The win provided a very nice morale boost (although, our magnificent Oratory lads never really lost their morale to begin with).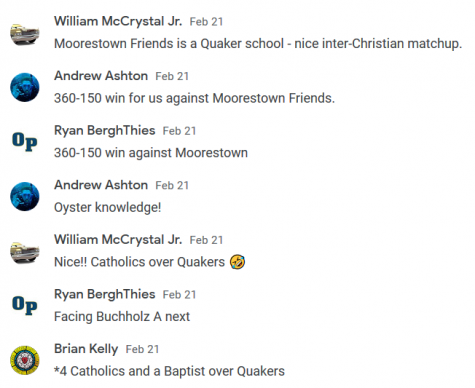 Our fourth match, against Buchholz A, saw Oratory go against… another single-player team. "Always tough matches…", as I noted in the Google Classroom, but we rolled up our sleeves and pressed on. Despite it being a closer match than the first one of the day, the lone Buchholz A player gained and retained enough of a lead to stay out of our reach. In the end, the match was concluded with a 130-260 loss for us. 
Finally came Match #5, which was definitely the best match of the day in terms of both fun and performance. Our opponent was Lincoln, a school from Oregon. The Lincoln team was very nice and fun to play against; they seemed like a great group of guys. At first, the Lincoln team retained a quite-narrow lead on us, with a 40-60 in the first round and a 100-120 in the second round. A 20-point lead like that is peanuts in Quiz Bowl, however, at least at this stage in the game. The speed road was where the game, which was already pretty competitive, began to get really interesting. Following a round where Oratory got a bunch of questions and "bouncebacks" correct and a hilarious moment where the answer of "Chad" the Lincoln team went with (and I quote) "for the meme" was correct, the score sat at a perfect tie: 170-170. What followed was one of the most exciting final rounds of a Quiz Bowl game I have ever played in. In an incredibly abnormal occurrence (at least in my experience), all of the answers from both teams in the fourth round got at least a 20 or 30, never a 10. Both teams answered questions very fast in an engaging, edge-of-your-seat finale to the match. In the end, Oratory prevailed, with a whopping 130-point gain in the final round to Lincoln's 60-point pick-up. After the match, all both teams could do was congratulate each other and marvel at how wild of a final game it was. Both teams left the (virtual) field in high spirits. As for me, I had a bonus reason to be happy: I had just been handed a dramatically-satisfying conclusion to an article that any self-respecting Omega author would envy.