Texans Fight off Lions; Washington Dismantles Cowboys on Thanksgiving
Although many Thanksgiving practices have been adjourned this year due to COVID-19, one has remained as a staple to the holiday: football. On Thursday, families all across America sat down to watch the Detroit Lions and the Dallas Cowboys play in their traditional Thanksgiving football games. 
At 12:30, Detroit took on Texans, in a game that proved to be all Houston. Deshaun Watson threw for 318 yards and four touchdowns, two of which he threw to WR Will Fuller, earning him a QB rating of 150.4. Along with the two TDs, Fuller had six receptions, amassing north of 170 yards. The Texans defense also contributed to the effort as well. Defensive end JJ Watt intercepted Matthew Stafford for a pick-six, leading Houston to a 41-25 victory over the Lions. Both teams are now 4-7 following the matchup.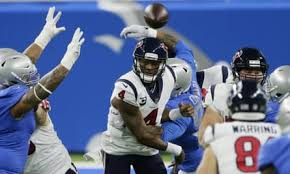 Later that day, the Cowboys met up with a long-time NFC East rival, the Washington Football Team. For the first three quarters, momentum swayed back and forth for both teams, with Washington holding the lead for the majority of the time. However, it was not until the fourth quarter in which they took full control of the outcome. Washington put up 21 unanswered points in the last 15 minutes, cruising to a 41-16 win in Dallas. Washington's rookie running back Antonio Gibson tallied three touchdowns on Thanksgiving Thursday, the first since Randy Moss in 1998. QB Alex Smith finished the day with 19 completions on 26 attempts, throwing an interception, but also a touchdown to tight end Logan Thomas. Washington leads the abysmal NFC East with a record of 4-7, while Dallas falls to 3-8.