Biden Vs. Trump: Who has the better drip?
As election day looms in almost every American's mind, there is one question everyone wants to know. It has nothing to do with the global pandemic, the economy or even health care. The big question on everyone's mind is simply, which candidate has better drip? Which candidate can throw better 'fits when it really matters the most? The answer to this question lies in the details, in the facts, and in the opinions of yours truly. This article is not politically driven and is strictly based on both candidates' style in general. I will be taking a non-biased stance going into my research. 
For starters the advantage goes to President Donald Trump, whose net worth is over 2 billion dollars.  This gives him more money to spend on clothing. However, former Vice President Biden is known to sport a great pair of aviators almost all the time which I personally think is a good look. So let's get down to the nitty gritty and what everyone has been waiting for… The winner here in my opinion is President Trump for a variety of reasons. For starters, Trump has been a television presence and can be found at social events in some of his best attire. However, not only can he do the classic suit and tie look, he can also switch it up. Pictured, you can find Trump sporting a flannel and jeans. All in all both candidates have good drip, but when it comes down to it, Trump's variety and detail gives him the upper hand. Biden's lack of variety hurts his look.  And the aviators, while being great, are not enough for him to "out drip" Trump. Being at an all boys school it is necessary to comment that First Lady Melania Trump is a super model, and that definitely ups Trumps drip.  While I'm not sure what will happen on Election Night, Trump definitely takes the win in the drip battle.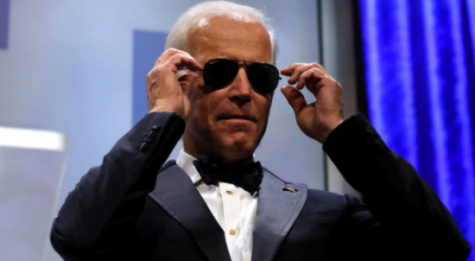 Image courtesy of: https://www.thedailybeast.com/joe-biden-bleeding-cash-spent-nearly-dollar1-million-on-private-jets