Things I'll Miss About OP Pt. 2: Jack Lawlor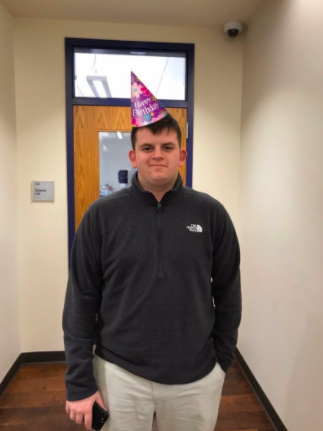 Happy birthday to you, happy birth…wait a minute. Haven't we already sung happy birthday everyday this week…or month…or year? Of course we have! At Oratory, everyday is the birthday of Jack Lawlor!
So where exactly did this tradition originate? Well, roughly a year ago, while the varsity baseball team (shoutout to Liam Henderson) went on a trip to Washington D.C. for spring training, the players were enjoying a nice dinner at Hard Rock Cafe. Suddenly, a few of us had a great idea. We decided to surprise someone with a 'happy birthday' ambush. Who should we choose? We thought. Coach Maybe? For sure, no. Joey Del Sol? No. George Castro? Uhhhhhh no. Jack Lawlor? Yes, perfect.
Towards the end of the meal, a waiter silently approached John Jack Lawlor with some scrumptious birthday ice cream. He then loudly shouted "LAWLORRRRR," surprising the future 1st round MLB draft pick, who immediately caught on with what was happening. Everyone then joined in on a beautiful rendition of 'happy birthday,' a nice way to acknowledge his presence in the restaurant as he confusingly stood up in front of the crowd. Although it wasn't Lawlor's actual birthday, we sure made it feel like it, and ultimately, Lawlo ended up getting some free ice cream.
We did not leave this behind in D.C., however. One day the following school year, when it was actually Lawlor's birthday, the OP student body went into absolute mayhem. Between every class, and during every class as well, students could be found surrounding the figure and singing the classic happy birthday tune. During that school day, it was quite enjoyable, but the students were not aware of what they had just created in the grand scheme of things.
For the rest of the school year, students would find ways to celebrate Lawlor's birth, despite it not actually being his day of birth. At most major gatherings, including soccer games, basketball games, assemblies, and lunches, the entire student body (with leadership of George Castro, Sudyut Sinha, and Andrew Stauffer) would happily partake in the sing-along, while Lawlor has a fluctuating look of dismay, joy, anger, annoyance, and cheerfulness on his face. Most notably, one of the recent guest speakers at the school was convinced that it was Lawlor's birthday, and got the entire school to sing to him!
The name "Lawlor" is quite memorable, and every senior will miss shouting/saying/singing it at the most random of moments throughout the day. I truly believe that, however, it will still be possible to continue the tradition by sending "happy birthday" texts, emails, and voicemails to Jonathan Lawlor on a daily basis. Hopefully, the school will have at least one more opportunity by the end of the school year to give this young man another well-deserved acknowledgment for having been born. Happy birthday, Lawlor!