The OP Community Comes Together with Social Media and Push Ups!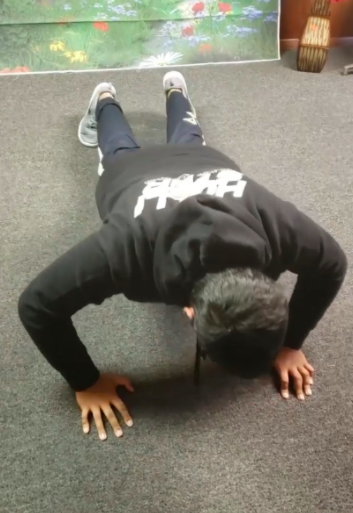 Over this trying period of quarantine and social isolation, the Oratory Prep social media accounts have been very active, trying to keep the sense of community that makes OP what it is. Many staff members, including Mr. Cuddihy, Mr. Blauner, Mrs. Preston, and even Mr. McGowan himself, have filmed themselves speaking to the community and the students to be posted on Oratory's Instagram account. Fr. Scott has been saying daily prayers for the students as well. At the same time, there have been many fun challenges that have been posted in order to have some laughs and to remind the community that everyone is in this together.
Mr. Parsells, in his video to the community, challenged the male faculty members to grow mustaches. In response, Mr. Daugherty came on video sporting one! When I accidentally met Mr. Parsells in the supermarket the other day, he also reported to me that Mr. Barresi and Mr. Maybe may be joining Mr. Daugherty soon. Mr. Parsells also mentioned Mr. McCrystal, who confirmed on video yesterday that he would also be participating in the challenge. 
The other interesting challenge which has arisen came from Mr. Maybe, who started what is known as "See 10 Do 10". Essentially, it involves doing 10 push-ups and then challenging someone else to do it as well. Mr. Maybe began by challenging Mr. Daugherty, who while practicing his golf swing got down and did 10. Mr. Daugherty challenged Mr. McCrystal, who counted them out in front of his son and drill sergeant, Blaise. He then challenged the famous senior, Migalan Jeevananda. After we notified Migalan that he was being challenged by Mr. McCrystal, he immediately was ready and did 10 push-ups with excellent form. Migalan challenged Mr. Gaertner, who did the push-ups "in his sleep," his own words! Mr. Gaertner challenged senior Ben Landis, who challenged the big man himself, Mr. McGowan. The challenge has yet to continue so far after Mr. McGowan's sideways video challenged the entire 7th grade. For anyone who has not been watching, this challenge has been incredibly entertaining and refreshing so far, and I definitely recommend checking it out. 
All in all, I have been thoroughly entertained by all of the postings that have been made, and I am very excited to see more. I really think that fun challenges such as these continue to bring the community together. It is truly refreshing to know that even in tough times we are all in it together, and we can all laugh and have fun together as one OP community.