Why Coronavirus is Excellent News for the Marathon World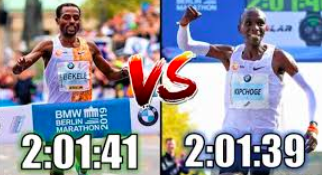 The matchup between the two greatest marathoners of all time, Eliud Kipchoge and Kenenisa Bekele, was anticipated to be in London in April. The London Marathon has now been postponed to October 4, and this could actually be good news. 
I have established before that my only concern with the matchup in London was the London marathon course itself. London does not have a fast course. Sure, many of the world's best have competed there, but no real record threatening times have been raced there. So for a race between the two all-time greats, I was hoping for a fast course. This just might be the case now. The Berlin Marathon is on September 27, just roughly 2 weeks before the new London date. These courses are the favorites for both Bekele and Kipchoge, so it's really likely that they opt to run in Berlin instead of London. If this is done, the world record is basically a guarantee. Further, I believe that if this is done, sub 2 hours will be broken once again, but this time it will count as a world record. The last seven world records have all come from Berlin. 
If the race happens in Berlin, I believe the times will be unreal. With the athletes going head to head in the marathon for the first time and having extra months of training behind them, I can only predict that the 2 hour barrier will once again be broken. Emerging from this race will also be a new marathon king, and it will be Kipchoge or Bekele.