Reviving the Rambotics – Robotics 2019-2020 Recap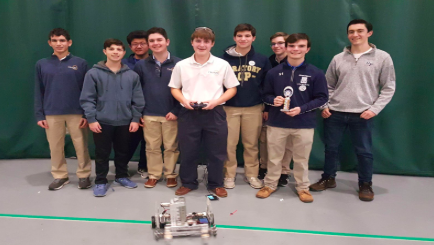 This time last year, in Mr. Jon Gordon's 11th Grade Ethics, the discussion turned to the clubs offered here at Oratory Prep. As the discussion was winding down, Mr. Gordon asked us offhandedly about a club that hadn't been truly active for two years.
"Hey, what happened with the robotics club?"
Indeed, the robotics club had faded after the 2016-17 school year once Mr. Crum had been reassigned and was unable to moderate it anymore. Though the club met a few times the next year and had reconstructed a new robot, the steam ran out once it hadn't been able to register for competitions. For the entirety of the 2018-19 year, Rambotics didn't meet once. Many assumed it was dead for good.
"Hey, what happened with the robotics club?"
In the class, myself and one or two other juniors who'd participated as freshman, the new old guard, looked at each other. We told him it had effectively died off two years ago, in the absence of Mr. Crum. All of us had mentally laid it to rest and assumed nothing further of the Rambotics.
"Hey, what happened with the robotics club?"
In the first month of my senior year, as I was changing to go to a cold cross country practice, Richard Williams came up to me and asked if I'd be able to come to some club meetings—meetings for the Robotics Club. I was surprised. I had no idea there was even an interest in reviving the club, and my expectations were low.
"Hey, what happened with the robotics club?"
Using a robot built from the foundation of our 2017-18 design, Rambotics went on to attend three First Tech Challenge official events and two smaller meets hosted by other high schools but not used in league rankings. Our robot was cheaper and far simpler than any other team's—with their banners, corporate sponsors, 3-D printed parts, absurdly complicated mechanisms, code which could run itself and probably needed a copyright, and coordinated T-shirts with bad tech puns; we held our own. Our little square, made of metal at least a decade old, with four wheels and motors that smelled of metal friction, our only investment a barebones, $100 computer core to replace our old ones (which were too fried even for our jerry-rigging). 
"Hey, what happened with the robotics club?"
"Last year, we didn't exist. This year, we've made the playoffs at two of three official tournaments, made the finals at one, placed fourteenth in a league of over 50 programs all better funded than ours, and when we, the old guard, the freshman-year six-to-eight PM'ers, graduate this year, the underclassmen will be ready to take up our torch and go beyond."
"Go Rams."