Why Man City Is In Big Trouble?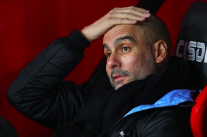 A couple of weeks ago, UEFA, the head governing body for soccer in Europe, announced that Manchester City would be banned from all European competitions for the next two years. In addition, the club was fined 24 million Sterling, or 30 million euros, and these consequences all come after City's breach of the financial fair play rules. This news was huge in the sports world due to Man City's recent uprise and domination in English soccer.
Manchester City is known to be the richest club in all of England and possibly in the world. Ever since a new set of owners took over, the Citizens have been signing expensive players left and right every transfer window. From the likes of Bernardo Silva to De Bruyne to Mahrez, they always seem to be picking up so many of soccer's biggest stars. Their overhaul in the transfer market over the past decade has contributed to their vast success. Ever since the owners took over, they've won the most EPL titles, along with the entire English treble last year, and they even set the record for the most points won by any English side in the top flight. However, with that being said, they broke certain regulations as the club falsely reported their sponsorship revenue. This relates to the FFP regulations as no European club is allowed to spend more money than bring in. Now, Man City was able to pay off the hefty price tags for transfers since their rich owners supposedly and secretively dumped almost three million euros into their accounts. This money came from the club's shareholders and overvalued sponsorship contracts.
After UEFA made a statement themselves, Man City commented on the issue and was "disappointed but not surprised" with the repercussions. They look to appeal UEFA's claim in the Court of Arbitration for Sport, but it is very unlikely the punishment will be overturned. Nonetheless, Manchester City will be hindered from accomplishing what they've been longing for all this time, which is a Champions League Title. The club has won it all in England, and they're just missing that one trophy. Unfortunately, they can't play in any European competition for the next two years and so reaching that goal is going to be impossible unless they take care of business in the UCL this year. The Citizens take on Real Madrid in a two-legged affair for a spot in the last eight, with the second leg taking place in mid-March.