Game, Set, Match!
Interview with Varsity Tennis Coach Mike Manna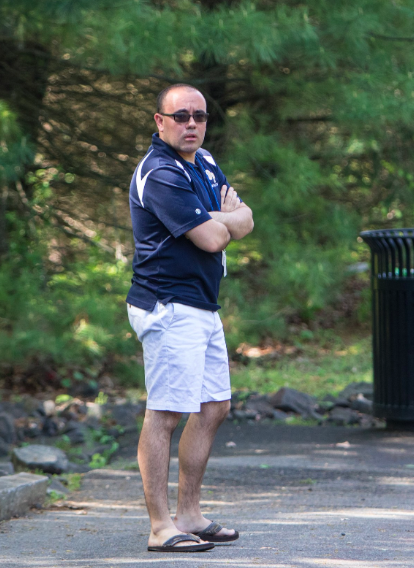 As always, Oratory's Tennis Team is poised for success under the esteemed leadership of Varsity Coach Mike Manna. One of the most endeared coaches by those who know him at OP, Coach Mike can always be guaranteed to inspire success into his players. Before the players hit the court on March 6th, I had the chance to speak to Manna about his goals and expectations for the upcoming season. 
Off the bat, Coach Mike's biggest desire is for all members of the team to improve from day one to the last day of the season. As OP plays in the middle division of Union County tennis, almost every match should be competitive with possible surprise wins against teams in the top division. Emotionally, the esteemed coach himself has a primary goal of ensuring team camaraderie which is a goal he holds in the highest regard for all of the teams he coaches. Besides coaching the OP Tennis Team, Mike Manna is also the head coach for Kent Place's tennis team, one of the most impressive programs in the state. In fact, Kent Place was the second-best program in New Jersey last fall, losing to East Brunswick in the Tournament of Champion Semifinals who would then lose to a team Kent Place beat comfortably. In order to achieve this camaraderie, Coach Mike relies on his captains to ensure unity. For the 2020 season, OP will be led by senior Luke Bernstein and junior Will Moran. 
As with any sport, some of the positions in the starting lineup will be different this season. Coach Mike does expect there to be a learning curve but is confident that everyone will be sure of their footing by the time the county tournament rolls around. In order for this gameplan to be successful, Mike needs every member of the lineup to pull their weight and try their absolute hardest in every match. On this topic, he says, "if we get beat by a better team, OK, but if we lose to a team we should have beaten because they outworked us, I have a problem with that." This is a philosophy that shapes the OP tennis program as no one wants to disappoint Mr. Manna, it is simply something that is not done. 
Due to the unfortunate departure of history teacher and tennis star Mr. Will Sinden, OP was sent to the job market in search of a new JV coach. Filling the vacancy left by Mr. Sinden will be Kate Hunzinger. Kate is also the head coach of Kent Place's middle school tennis program so it is an individual that Coach Mike knows well and that will make the transition seamless. This is an advantage that Mike is well aware of and will be sure to employ to continue to create the OP tennis dynasty. 
From the 2019 lineup, OP has only lost two seniors who held starting positions who were former Captain Drew St. Amant at First Singles and Mark Werner at Second Doubles. Losing Drew will be a big loss for the program due to his ability and leadership, but this current group should still be well on their way to success. Returning players this year include junior duo Nick Carnevale & Will Moran who are steady forces on the singles court, sophomore stud Arnav Chahal, and seniors Luke Bernstein and Sebastian Gould. Bolstered by new freshman talent and the OP debut of senior Andrew Stauffer, this will send OP Tennis soaring to new heights. Good luck, OP Tennis!!
Leave a Comment