Breaking Down A Boogie's Artist 2.0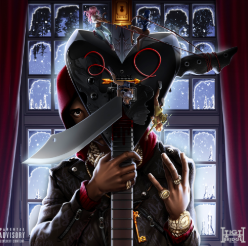 Rapper Artist Dubose, better known as A Boogie wit da Hoodie, recently released a new album this past Friday. Titled Artist 2.0, he dropped 17 new songs and added three of his already released songs to the album playlist. Those three songs were "Reply", "Mood Swings", and "King of My City", all of which became widely popular at their releases and continue to become more popular as time passes. According to Spotify, "King of My City" is currently ranked fourth on A Boogie's charts while "Reply" is placed at the seventh spot. "Mood Swings" held a spot in A Boogie's top 10 for a while but the song had been kicked out after the rapper's latest influx of new songs.
Many of A Boogie's new songs featured other rappers that are currently very popular. One example of this is a song called "Numbers." This song features Roddy Rich (Currently famous for his album titled "The Box), Gunna, and London On Da Track (an A-List producer); and currently is his 5th most popular song. Other features on A Boogie's newest album, Artist 2.0, include Lil Uzi Vert on "Luv is Art", DaBaby on "Stain", and Young Thug on "Might Not Give Up". However, A Boogie's best music tends to come from tracks he creates all on his own. One of these songs that exemplifies this the best is "Me and My Guitar", which in only a few days has already become a fan favorite. Even though A Boogie is only on his third year of mainstream attention, he has already obtained multiple platinum records. This widespread success, from this album and past projects, warrants high expectations for his music in the future.