Varsity Basketball Coach Mr. Daugherty Shares His Secrets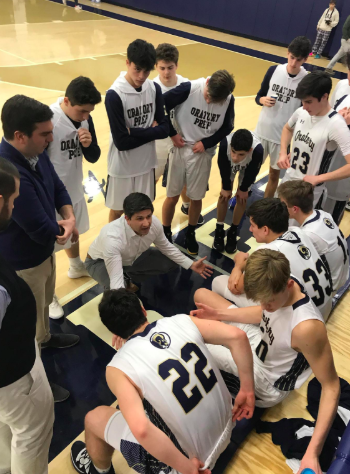 What is a normal practice like at the varsity level?
The typical practice for varsity is about 2 hours. They are very intense and fast-moving and we do not spend more than 8-10 minutes on a drill. On days before a game, it is more oriented around planning for that game and watching film. When the game is days ahead, it is focused on trying to get better.
What player is the biggest leader to the frosh/sophomores?
Not speaking for them, but I think Peter Byrne is the biggest leader. He is having a great offensive season and most young guys look up to his leadership and attention to detail. He sets the standard for the Freshman and Sophomores, especially Mike Pirone who he drives home. His experience lets the younger guys look up to him and see what hard work and dedication looks like when it comes to fruition.
What advantages do you get from playing at home in front of the Rowdies?
We have a humungous advantage and I cannot relate it to anything else. The gym is incredibly loud. Other teams have trouble relaying their plays to the players and, as a result, we use hand signals to communicate with the guys. With the Rowdies there, it gives the players more confidence. The best part is how the students make it happen. It truly gives us a great advantage, more so than any other team.
How does the team mentally prepare for a big game?
Before all games, we watch film after practice. Later, I will send a detailed scouting report. After school on the day of the game, we meet to watch more film. Then we send them off to eat and relax before the game. They have to be back for the JV game and once they are at the gym, we go to Bain and do a walkthrough/shootaround. The top priority is to make sure there is no lack of preparation.
Do you specifically tailor your offense/defense depending on the opponent?
Definitely. Every game is different depending on the opponent. More recently, we have run a zone defense, but things change based on the matchups. That is why we watch film to ensure we have knowledge of the opponent.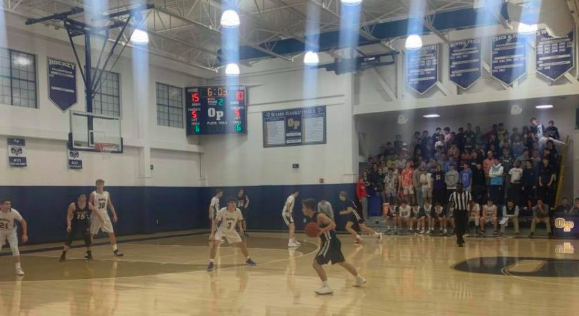 How do you teach the younger players on the team?
I try to spend more time with them outside of practice. I check in on them during the day to make sure they are okay. We use HUDL to allow the players to visualize and see what they can improve on. We try to ensure there is no grey area between the player and coach.
How do you motivate your players?
Everyone is different. For some, we need to push them to work harder. Others need more 1 on 1 time. Some need to self motivate. Most importantly, we need the make sure they are playing on behalf of the school and not themself. During the games, the Rowdies and student body are a huge support. 
What has been your biggest accomplishment as the head coach at OP?
We have won multiple Christmas Tournaments, two conference titles, state games, and other accolades. However, I value the relationships I make with kids after graduation. No one remembers your record, but when kids come back for recommendations, you know you are making a connection and they feel attached to the program and school.
What are the team goals for the team this year?
We wanted to win the Christmas Tournament and earn a home county game, which we did. We also want to win state games, which is still yet to be determined.
How do you and the staff develop players from their Freshman year to Senior year?
Most of the development is done during the offseason. Players make themselves available during the summer and fall because they cannot develop too much during the season. They take advantage of the offseason time and most guys choose to get better. The use of film also helps us improve during the season to see specifically where they can get better.