An Inside Look Into OP's Applied Art Class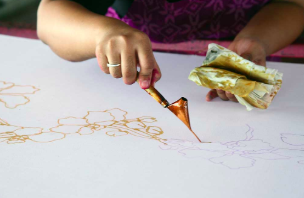 Applied Art is an elective offered by Oratory for students in the 10th, 11th, and 12th grades. This year, Mrs. Preston is teaching this class, which consists of a nice mix of boys from each of those three grade levels. Her class is very different from your typical art class, as it doesn't just involve the usual drawing and painting skills. Instead, students are transferring their artwork onto fabric using certain techniques. 
The class has only been in session for a few weeks now, and so the students have only been able to learn one technique, known as batiking. With batiking, students draw their designs onto fabric with pencil before combining chemicals to add color. The chemicals include salt, an activator, and the color dye itself. All of these are stirred together in a plastic container that has been filled up with two cups of hot water. The water is poured into a tub and the students then place their fabric designs into that tub, where they let their art sit for a few minutes. After that is completed, the fabrics are then rinsed out under cold water and must dry before any other work can be accomplished. Once the fabric dries, wax must be brushed over the spots the artist would like to keep the color that the fabric had just been dyed in. Thus, any other color dye used in the future isn't able to dye the areas where the artist wants that original color to show. The process can be repeated for other colors to be used on the design, and the only thing that would change is the color dye involved.
This batik designing technique is extremely unique and one that many OP students have never heard of before. Each and every day Mrs. Preston continues to show her students that art can be much more than just drawing and painting on a simple white piece of paper.