The World Mourns the Passing of Kobe Bryant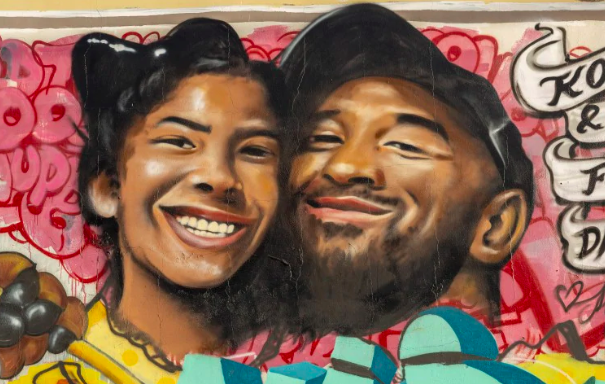 Logan Drone, Staff Writer
February 10, 2020
On January 26th, the sports world was hit hard learning about the tragic death of former NBA superstar Kobe Bryant and his 13-year-old daughter Gianna. The two members of the Bryant family were involved in a plane crash that Sunday morning, which unfortunately resulted in 9 casualties, with no one on the plane surviving. People from all over the world have mourned the death of this superstar. All over social media, Kobe's greatest highlights and greatest plays have been posted to commemorate the legend. Along with that, artists, painters, and muralists have created artwork to remember the Laker legend. 
Looking into the Sports World, Kobe Bryant's death has taken a toll not only on the basketball court but on the hockey ice and football field as well. Prior to sporting events for the past week, moments of silence have taken place to commemorate the passing of Kobe Bryant and everyone else on the plane. For example, before Super Bowl LIV, all of the members of the football community and fans rose to remember Kobe and his daughter Gianna. 
On the basketball platform, many players and people are commemorating Kobe on various days. On the night of Kobe's death on Sunday, January 26, teams opened up their games by taking either a 24-second violation or an 8-second violation. Since Kobe Bryant's two numbers during his career were 8 and 24, the teams in the NBA wanted to pay their respects to the fallen legend. That same night, Atlanta Hawks guard Trae Young, who is usually number 11, wore number 8 to pay respects to his hero. The next day, 76er's Center Joel Embiid did the same by wearing number 24 to respect Kobe, and that same night he dropped 24 points. Players in the NBA have even changed their numbers to pay their respects to Kobe Bryant. Brooklyn Nets guard Spencer Dinwiddie tweeted the night of Kobe's death that he would change his number from 8 to 26. Quinn Cook, a guard for the Lakers, decided to change his number to 28 from 2 to pay respects to both Kobe Bryant and his daughter Gianna. In an interview about that number change, Cook said, " Number 2 is Gianna's number. I feel it should be retired. It's hers". Dallas Mavericks owner Mark Cuban decided to commemorate Kobe in a different way. Cuban decided to retire the number 24, meaning no member of the Mavericks will ever be able to wear that number again. In a statement following the death of Kobe, Cuban states: "Kobe was an ambassador for our game, a decorated legend, and a global icon. Above all, he was a loving and dedicated father. Kobe's legacy transcends basketball, and our organization has decided that the number 24 will never again be worn by a Dallas Maverick". 
The death of Kobe Bryant is truly tragic to the world as whole; however, his legacy will live on forever in both the sports world and the rest of the world.