OP Puck Takes down Governor Livingston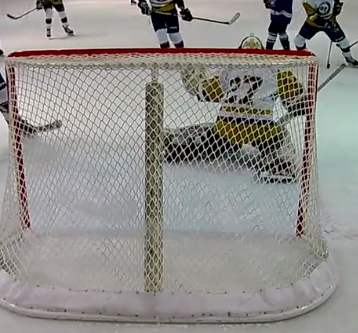 Darren Keaveney stopped 42 shots in Oratory's big conference win over Governor Livingston. Colin Reis, Gerard Fargiano, and Jeff Jarvis scored a goal apiece to propel the Rams to a 3-2 win. 
The game's first goal was scored by Gerard Fargiano. Fargiano started the game off by winning a faceoff in the offensive zone. The puck was won back by Nate Bock who fired on net. The opposing goalie made a strong save but let up a rebound that was corralled by Colin Reis who wristed another shot on net. The opposing goalie was once again up to the task and stopped Reis' shot. However, the puck, after hitting off of the goalie's pad, popped out to Gerard Fargiano who tucked the puck in the net. The score was 1-0. 
The Rams had all the momentum in the first period and the Rams were able to make it 2-0 on a goal from Colin Reis. The Rams, with Fargiano at the center, won the puck back to the defensemen Matt Clark who fired the puck on net, and even though the puck was blocked, Reis was able to collect the puck and go bar-down for the goal. The score at the end of 2 periods was 2-0 in favor of the Rams. 
For the third goal of the game, Jeff Jarvis raced down the ice on the right-wing, circled around the net, and whistled a shot into the hearts of the Highlanders. This goal would prove to be the game-winner after GL collected two late goals to make the score 3-2. 
The Rams dominated the physical game, dishing big hits in the offensive and defensive zones. Jeff Jarvis collected a team-high 5 hits. The Rams were rolling up and down the ice and were able to come out with the win at home.