A Comparison of Will Sanyour and Joey D'Angelo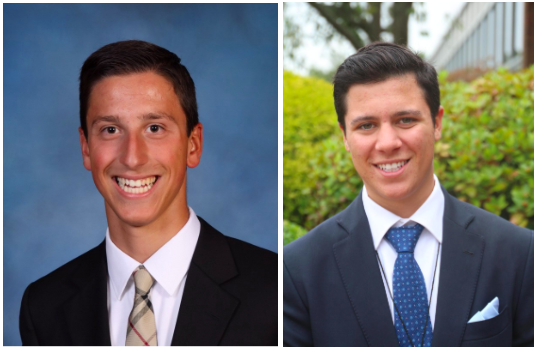 Looks can be deceiving—that's the line I planned on starting this comparison with. Knowing both Will Sanyour and Joey D'Angelo, I never thought their physical appearances could be compared, but after seeing both of their pictures, they are obviously much more similar than I originally presumed. With their short, black, slicked-back hair, unmistakable "smiles," and sharp profiles, Will and Joey not only appear to have extremely similar personalities but appearances as well.
For those of you who don't know Joey D'Angelo, he graduated OP Class of 2018 and is currently attending Bucknell College where he, shortly after arriving, joined a fraternity. Joey is a certified EMT and works as such near his college, but also helps out in his home town of Mountainside, NJ, when he's home.  
Will Sanyour, on the other hand, is a junior at Oratory Prep. Currently residing in Summit, NJ, Will is actively involved in the OP community, like Joey was (and, in some regards, specifically relating to the Mock Trial team, still is).
So what makes Joey and Will so similar? For your convenience, I've made a chart allowing you to see the key similarities between the two Oratory gentlemen.  
Despite all of that, many will testify to the fact that Joey and Will have extremely similar demeanors. Whether that be the way they walk, talk, or act, Joey and Will have a striking resemblance, causing many to think they're more than just acquaintances. And who knows—long lost brothers? 
In my examination of the two, I also felt it would be appropriate to get some comments from teachers who know both Will and Joey and can speak to their characters. Not surprisingly, they all confirmed my previous analysis. 
Mrs. Michelle Gribbin, very familiar with both gentlemen and the inspiration behind this article, graciously included,
"Yup. Twins." 
Mr. William McCrystal added, 
"I, personally, believe it is the result of a flawed cloning program."
Mrs. Michalski put a different spin on their similarities, but similarities nonetheless: 
"Both Joey and Will are very charismatic OP young men.

Both Joey & Will have a smile that could light up the room.

Both Joey & Will embody the OP virtues of honesty, respect, responsibility & pride.

Both Joey & Will have the Sacred Heart of JESUS. 

Both Joey & Will walked in the Spirit of St. Philip Neri in doing good in the world.

Both Joey & Will had that famous "swagger" with a coffee cup as their guide.

Both Joey & Will are a blessing to all of us at OP and we are richer for having known them."
Mr. Gaertner, esteemed business and mathematics teacher as well as the recently-appointed Assistant Golf Coach, remembers a quote given by one, but embodying the two,
"This scarf is real burberry—I swear"
And finally, Mr. Martin, Head of Student Activities and Mock Trial Coach, told me, 
"They both grip that coffee mug like it's glued to them."
All jokes aside, Will and Joey are both great guys who embody the spirit of OP and everything the school stands for. Their contributions to their communities have been great, and there's no doubt they will continue to impress their peers in college and in the future.