1917 Movie Review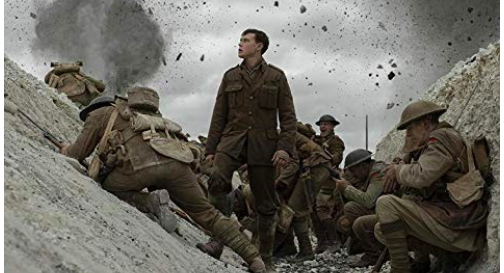 I recently saw a movie that has been in theaters for a couple of weeks now called 1917. I am very interested in all things related to history, and when I saw the first trailer for the movie, I knew I had to see it. I went to see it with my dad after my little brother's basketball game and we were both really looking forward to it. I had gone to see a movie called They Shall Not Grow Old about a year ago, which was a documentary about World War I where they got black and white video from the war and colorized it while also adding voices to the people in each video. Along with those features, they also had interviews in the background from real World War I veterans explaining their experience as well as a 30-minute after credit video on how they colorized and got all of the footage. 
We went into the theater expecting a good movie and we left the theater not only satisfied but also surprised by how much we liked the movie. The movie was made to look like it was all done in one continuous shot. The story follows two British soldiers who have been given new orders to deliver a message to troops who are readying an attack on the Germans in order to save countless lives. I don't want to get into that much more detail because I don't want to spoil the movie.
1917 was the first movie that I watched in theaters in the year 2020, and I am very happy that it was. If you are into historical movies you should definitely watch this movie, and people who aren't too keen on this genre will still enjoy it and have lots of good things to say about it. All in all, 1917 was a great movie and I encourage everyone to go out and watch it for themselves.