An Interview with Resident Giant Tommy Conniff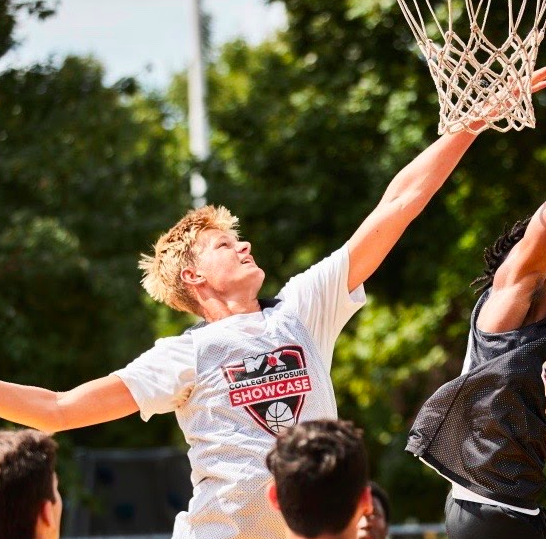 Today I had a chance to interview sophomore Tommy Conniff. Tommy has been attending Oratory since 7th grade and currently is in his second year of varsity basketball. Aside from basketball, Tommy played varsity lacrosse, is part of the Saint Philip Neri Club, Operation Smile, and the Digitial Arts Club.
How long have you been playing basketball?
I have been playing basketball since I can remember, so probably since I was around 3 years old.
Would you play basketball in college? If so what is your dream college?
Yes, I love college basketball and it is my dream to play in the March Madness tournament. Duke is my dream college but there is not a very good chance of me making the team there. 
What is one word that you would use to describe yourself? Why did you pick this word?
Competitive. I picked this word because I hate to lose and always try to do my hardest to win.
Who would you say is the biggest influence in your life currently for school and basketball?
My biggest influences are probably my coaches. My coaches in AAU, personal training, and highschool all try to push me to be better and are always teaching me life lessons.
Do you have any pregame routines? If so what are they?
I am very superstitious when it comes to pregame routines. I try to do the same thing every time. For example:
I always have two pb&j's as my meal before the game

I always put on my shoes right foot then left foot and tie them left foot then right foot

I always have a yellow Gatorade

Do you currently have a personal goal (or goals) for this season? If so what are they?
Yes, I always set myself goals. I want to get a triple-double (10 points, 10 rebounds, 10 blocks), I want to get an in-game dunk, and I also want to beat someone off the dribble.
Does anyone in your family plays (or has played) basketball? If so who? Did they have any impact on you playing?
Yes, my dad played basketball and my brother plays right now.  My dad was probably the most major influence in my basketball career. He always had basketball on the tv when I was little and helped grow my interest in the game.