"Knives Out" Spoiler-Free Movie Review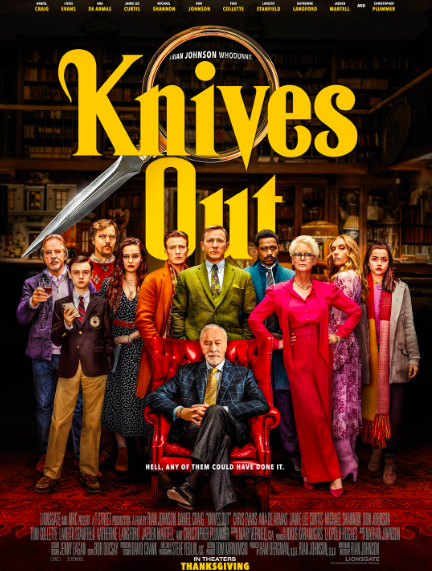 Recently, I had the opportunity to see Knives Out in theaters with a friend. Having seen the preview sometime before, I was interested to see how the movie would turn out. By the time the credits rolled, Knives Out had established itself well within my top three movies of the year. Knives Out is directed by Rian Johnson (at his very best here) and features a star-studded cast. Knives Out is indeed a mystery film, but it separates itself from other mysteries from its plot structure (which I really cannot explain due to spoilers), excellent characterization, and unique feel. The movie has excellent comedy but stops short of being a full genre-blend.
Knives Out starts out strong with an excellent first 30 minutes. Harlan Thrombey, famed mystery writer and patriarch of the featured family, is found dead by the maid in the family mansion under circumstances that appear to be an open-and-shut suicide. A few days later, famed detective Benoit Blanc arrives. A series of interviews with members of the household ensues, all of whom had gathered on that night for Harlan's birthday party. The interviews are spliced between each other to great effect. The viewer quickly and effectively learns not only about each character but also the dynamics among them. Each character recollects their memory of the evening, building many different pictures of the party that at times wildly contradict each other while (of course) establishing their own innocence. As each characters' possible motives and lies slowly come into view for the first time, the viewer is left to decide for themselves who is the least-unreliable narrator. As a bonus, the perspectives of each person cleanly spliced immediately after each other sometimes oppose each other to great comedic effect.
Knives' Out entire script deserves praise, although I cannot discuss it much at all due to spoilers. Odds are, you will be left in surprise how effectively the tragic events of Harlan's death become clear. Additionally, the viewer likely finds himself rooting for someone they never would have expected. Here is where the film's unorthodox plot structure sets it apart from other movies, which usually follow a similar structure (character introductions, intrigue, escalation, and the murder's reveal followed shortly by the climax). Knives Out changes that structure in a few truly unexpected ways that keep the movie a fresh take for even the most die-hard mystery fans. My only gripe is that some of the true malicious individual's plan is slightly convoluted, but to be honest, their plan and timeline still makes good sense after the truth has a little time to sink in.
Besides poor Harlan Thrombey, Knives Out had three characters that really stood out to me in characterization, acting, and plot. One was Marta Cabrera, played by Ana de Armas. While not completely obvious from the trailers, Marta is the main character of the film. She is not a member of the Thrombey family, nor is she related to any of them by marriage. Marta was Harlan's nurse, but more than that she was his closest companion and confidant. After Harlan's death, Marta is thrust fully into the manipulative, fierce, and suspicious battle that follows. She is very clever but lacked many advantages that most of the privileged Thrombeys had. An additional obstacle obstructs (and sometimes helps) Marta's safe navigation through the situation: she cannot lie without vomiting shortly after. Ana de Armas had (in my opinion) the best performance among the cast, and Marta's character is all the better for it.
Daniel Craig, the top-billed actor in the movie, plays Benoit Blanc, a famous and eccentric detective. Blanc arrives at the family mansion still in the dark about who hired him (he is not a police detective). Shortly, he begins to suspect foul play despite Harlan's death officially being a suicide. However, this case would provide a much more complicated and difficult conundrum than he had ever expected. Benoit Blanc simultaneously often misses key pieces of the puzzle and is much cleverer than anyone in the cast knows, usually leaving the viewer to wonder how much Blanc really knows. Daniel Craig's performance is both hilarious and oddly riveting. If Craig's performance had been just a bit saner it would have sucked, but in my opinion, his oddities are just enough to make it over than barrier and make Blanc an excellent character.
Chris Evans of Captain America fame plays often-ostracized Ransom Drysdale. In the trailers, Evans is very prominent. Oddly enough, Marta likely has more screentime than Ransom in Knives Out despite being much less of a presence in the marketing. Look at the cover image of this article, for instance; Chris Evans occupies the center-left position right next to Daniel Craig, while Ana de Armas is all the way on the right. Ransom isn't present during the interviews, and I would peg his arrival as during the 2nd Act (although I wasn't watching the time at all). However, his presence (or lack thereof) is felt throughout the entire film. Ransom is a fascinating character, and Evan's portrayal of him is fascinating. Seeing the height of his good moods and the depths of his anger was a treat to behold. 
Of course, nobody should ignore the dead. Harlan Thrombey is played by Christopher Plummer, who's been in many movies over the years. By necessity, Harlan spends much less time on screen than many of the movie's characters (since his death is the catalyst for the film's events). However, Plummer gets plenty of time to shine in flashbacks and recollections. Predictably, his presence looms large over the entire movie. The entire family viciously fights over both Harlan's death and (of course) his inheritance. 
While the previous four performances truly deserve a spotlight, the rest of the characters aren't slouches either. Knives Out features a star-studded cast including Jaime Lee Curtis, Michael Shannon, Don Johnson, Toni Collette, LaKeith Stanfield, Katherine Langford, Jaeden Martell, Riki Lindhome, and Edi Patterson. Among those, I think that Jaime Lee Curtis (as both friendly and fierce Linda Drysdale), Katherine Langford (as young, progressive, and somewhat traitorous Meg Thrombey), and Michael Shannon (as the hypocritical and entitled middle-aged Walt Thrombey) are a step above the others in performance quality. I also think that both Jaeden Martell (as politically-extreme and disengaged Jacob Thrombey) and Riki Lindhome (as subdued, difficult-to-remember Donna Thrombey) had performances that were a step below the others, but I think that is only due to them having less to work with from their characters' personalities. The entire family (particularly Walt and Meg) also provides some A+ social commentary about how wealth and privilege can hollow out a person. Overall, the entire cast performances' were all somewhere from good to incredible. 
In conclusion, go see Knives Out. You won't regret it!