Charity Work Done By the Saint Philip Neri Club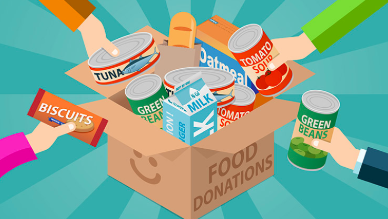 The Saint Philip Neri Club is known for the work it does to help those in need. The club is made of students who are willing to serve and lead. Most of their projects are drives whether they may be collecting food, clothes, or other items. Recently, the club has put together a few service projects and was extraordinarily successful in their collections.
For starters, Lucas Pavlounis was at the forefront of a food drive that ended up collecting more than 2,000 pounds of food. The food gathered included all sorts of boxes, cans, and bags. All students were encouraged to take part in this particular drive and those who did were even rewarded with a free tag day. Additionally, in honor of Saint Nicholas Day, the Saint Philip Neri Club served 18 homeless people at SHIP. A total of ten items were given to each person at SHIP after they were neatly placed in nice canvas bags. Items such as socks, pringles, sodas, tissues, and toothpaste were collected, and a good number of the Saint Philip Neri Club members happily volunteered to bring in what was needed. Everyone did their part and a few stayed after school one day to help Mrs. Michalski put together the bags and transport them to the back of her car, so they could then be brought to the final destination.
The Saint Philip Neri Club has done a great job in serving the local community and they will continue to do so as the year goes on. There will be plenty more drives throughout the year and the student body will be informed of when they will take place. Flyers are always pinned all over walls and drives are constantly mentioned in the daily announcements so it will be hard to miss when these service projects are going on.