The Final Campaign – Slayer in NYC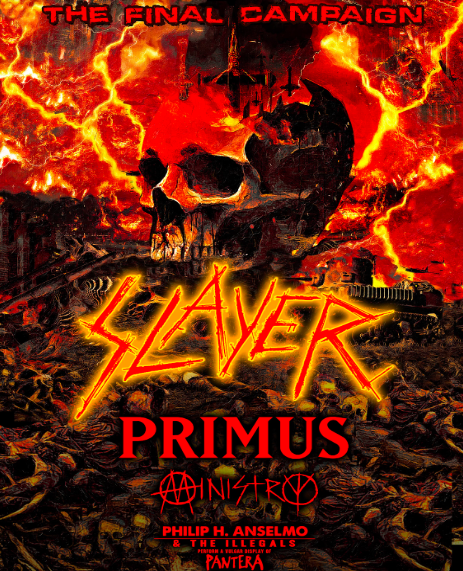 On the night of November 9th, 2019, I attended my fourth metal concert, and hopefully the fourth of hundreds more to come. The memory starts during the walk to the stadium. Fans were pouring into Madison Square Garden (MSG) in New York City [NYC | (MSG in NYC); that could be a jingle] all sporting their good ol' metal attire including boots (steel-toed if you're a seasoned professional), jeans (not ripped however, metalheads can keep it classy), t-shirts depicting every dark subject matter imaginable (skulls on mine!) and, for cool, old-school metalheads, a denim vest with tons of ironed-on patches of their favorite bands. Who was performing? The opener was Philip H. Anselmo & Illegals, a band that came to form to cover Pantera songs. Pantera was one of the biggest and most revolutionary bands in the history of heavy metal, a band on which Anselmo was the lead singer starting in 1986 until the band came to its tragic end in 2003. What happened? Lead guitarist, Darell Abbot was brutally murdered by Nathan Gale on stage while performing a show with another band, Damageplan. Although I was just a one-year-old baby, every time I think of this event I think of how everything would be different if Dimebag was still alive. He was one of the most influential people in my years of listening to metal; Pantera as a whole, for that matter, had a huge impact. Philip H. Anselmo & Illegals' performance, therefore, was actually the highlight of my concert experience*1. Their setlist was short as they were the opening band, playing 8 songs, with a runtime somewhere around 40 minutes or so. They played favorites such as Mouth for War and Walk, but most importantly, they played one of my most favorite songs of all times, This Love. I was looking at the setlists of their prior concerts on the tour, and they only played This Love 2 of the 5 shows prior, and I prayed to God (yes, you can be Catholic and love metal) that they would play it. When I heard the clean intro riff, my anxiousness drifted away into a dimension where watching Bob Ross was the means of your existence (we don't make mistakes, just happy little accidents). Words could not explain the rush of emotions I felt (maybe like eating a giant prime rib…? mmm…), but boy did I headbang hard [(Disclaimer: the brain bucket is still intact, maybe I should have headbanged even harder—it doesn't hurt (except for maybe my head and or neck)]. The gravity of the situation I was witnessing finally hit me after I heard "NO! MORE! HEAD! TRIPS!!!" which is the break before quite possibly the heaviest breakdown ever. There was something special about Phil being on stage and giving it his all after one hell of a roller coaster ride since the mid 80s.
Sadly Anselmo and his crew were done for the day, but it was time to welcome Ministry, the pioneers of industrial metal. The band formed in 1981, and have been going strong since then, growing steadily in popularity, and even releasing their 14th album last year. Personally, I didn't have much expectation for Ministry as industrial metal is not really my cup of tea, but for the people who did enjoy them, they attracted a killer crowd—mosh pits and crowd surfing galore. They had some catchy songs, my personal favorite being their song N.W.O*2 combining grooves with various samples in the background of God-knows-what (a classic formula of industrial metal). For me, they did a good job, but they felt more like a filler.
Up next was Primus, an extremely popular band that really doesn't have a defined genre (but certainly not metal) because Primus is all over the place. A good way to describe Primus would be organized chaos. This is achieved through Les Claypool's unique style. His bass guitar is the driving force in all the songs, and the riffs he comes up with are mind boggling at times. I never gave Primus a close listen until the concert, and what I heard made me become a fan immediately. As someone who idolizes Buckethead, weird is for me!*3
NOW IT'S TIME FOR THE BIG GUNS. What you just read basically sums up the atmosphere of a Slayer concert. A bunch of people (mostly sweaty dudes) jacked up ready to listen to the best band ever conceived in the entire universe period. No debate. Although my opinion of the band is rather… factual, Slayer is among the biggest heavy metal bands in the world. They are a part of what is known as the Big 4, which are the 4 biggest/most popular thrash metal bands in existence, consisting of Anthrax, Megadeth, Metallica, and, of course, Slayer. During the intermission between Primus and Slayer, I took a walk around the MSG theater just so that I could take everything in. Happy metalheads, people screaming Slayer, waiting for a response for everyone to scream back at them, but quite possibly the best thing was a t-shirt someone was wearing that said: "Even Jesus Loves Slayer shirt." On my excursion, I became entranced in a serene state of mind, full of happiness and peace, being involved in such a wonderful community… but it was soon broken when the intro song Delusions of Saviour roared into existence. I sprinted back to my seat, and I knew the next 90 minutes would be time I would never forget. The concert was like every other Slayer concert I have been to previously—giant mosh pits and people screaming at the top of their lungs every lyric they knew and chanting Slayer in between every single song. The setlist of this concert was the best one so far (which I was estatic about since I was watching them in the almighty Garden), playing classics such as Mandatory Suicide, Postmortem (shout-out to my mediocre talent show performance), War Ensemble, Seasons in the Abyss, South of Heaven, Raining Blood, Dead Skin Mask, and the best song of all times, Angel of Death. The show was great, but you could tell that Slayer was pretty burnt out. This leg of the tour, known as "The Final Campaign," was technically Slayer's Final, final… final world tour. Kerry King, rhythm guitarist since Slayer's conception in 1981, had a tough time with the intro of When the Stillness Comes, having to restart four times, and ultimately skipping the clean intro part and going right into the heavy distortion. Tom Araya, lead singer since 1981, also missed his entrances to multiple songs throughout the concert. The best part, however, was that no one cared. Everyone was there to fulfill their desires for some malicious metal, and everyone was going to have a good time regardless of what happened. Music is truly one of the greatest things life has to offer. People come together in a way that no other thing in this world can match. Metalheads are some of the nicest people you will ever meet, despite all the crap they listen to. This connection between others is a beautiful feat of humanity, and I am so happy to be a metalhead and be part of the metal community. I really hope Slayer decides to come around just one more time (which they might if they need the $$$), but if it really is the end, I am so grateful for the great memories they have given me, and I will miss Slayer greatly.