OP Welcomes Illusionist Matias Letelier for a Special Performance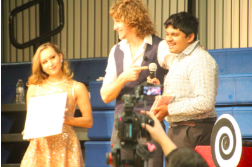 On Friday, December 13th, students were treated to a special guest entertainer, Matias Letelier. To open the show, Letelier immediately enthralled the student body by welcoming his Alexandria in a blaze of fire. After that, he gave senior Jack Sula a chalkboard to hold onto for the show to test if that student believed in illusions. Then Matias pulled up a student and had him drill nails into a cage to make sure the bars could not come off. Then he put a cloth over the cage and his assistant and when he removed the cloth, the assistant was in the cage. 
After this, he pulled up seniors Luke Bernstein and Aron Gianchandani to show off a card trick. He started by putting balloon hats over both student's heads and put ten cards in their pockets. Then Letelier had Luke throw three imaginary cards at Aron. After this he had both students count the number of cards in their pockets. Luke now only had seven cards. Aron now had 13 cards in his pocket. Just before they walked off the stage, Matias revealed that he stole the watches from both Aron and Luke, as well as Alexander Jansiewciz who had previously been on stage.
Some other stand out acts were when he went around the gym asking people to put in random numbers into his calculator and multiplied them all together. When he had his final number he revealed that it was the number he planned on getting the whole time. The number actually revealed a message in it. The first three numbers stood in for the letters OPS which stood for Oratory Prep School. The next few numbers were the date, 12/13/19. The last number stood for R, meaning rocks. The whole message revealed Oratory Prep School on 12/13/19 Rocks.
Matias also showed off his mind-reading skills by having Freshman Nico Stauffer pull a random card out of a deck and he successfully guessed which card it was. He also guessed three different facts about three students including their favorite subject, something bad they once did, and their first crush. 
For his final act, Matias put handcuffs on his assistant and put her in a bag inside a locked box. Then he threw a cover over himself and the box and when the cover fell down his assistant was free and he was handcuffed inside the bag in the box. Just when everyone thought the show was over he asked Sula what was on the chalkboard. When he read it out loud it revealed the number from earlier along with the answers to the random facts from the different students. Special Thanks to Mr. Martin for arranging the event and Matias for his excellent performance.