Interview with Max Russo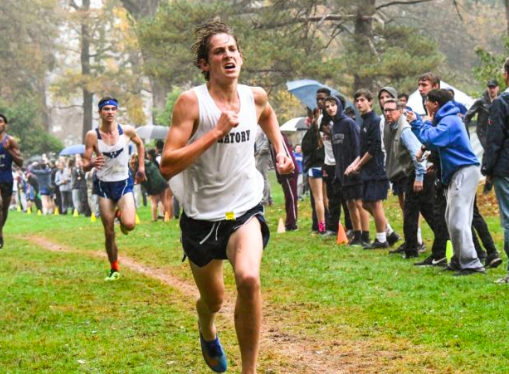 On November 16, our young lads on the cross country team ended their season with an impressive showing. However, one star continued, finally finishing his season with the NJSIAA XC Meet of Champions on November 23 after even the other varsity runners had hung up their shoes. Max Russo helped headline our team, and it is a pleasure to interview him.
The interview was conducted via email. The famously forgetful fellow was difficult to contact (after all, he is very busy), but I managed to get a response back eventually. 
The Interview
This last meet, you ran a 16:27 . How do you feel about your performance this race?

I feel good about this performance. I improved upon my time at Holmdel a lot since last year, so I was pretty happy about it.

In total, what did you think about your season performance? If you could change something, what would it be?

I feel good about my overall performance. I got a PR on multiple courses. One thing I would change is that I wish I finished a little better at MOCs. 

Are you doing any sports in the off-season or just training for track?

I'm just training for track.

What meal do you eat the night before a big race?

I don't have a specific meal; I just try to get all the necessary nutrients.

What do you eat the day of a race?

I don't have anything specific. I just try to eat good food.

Do you have a pre-run routine?

Just my warmup which consists of stretching, a run, and some tempo work.

What was the most challenging thing about being team captain?

The most challenging thing was getting people to focus.

What was the most challenging thing about your running career in general?

Staying motivated to continue training is definitely the hardest part. 

What's your most common mode of exercise besides running?

Weight lifting or playing games like football.

If you could say one thing to all new runners at Oratory, what advice or encouragement would you give them?

I would say to keep working hard because it pays off.

What's your plan for the future (both for running and in general)?

I plan to run in college and see what happens from there.

What makes the hard work worth it? Is it your times, the mentorship, a feeling of satisfaction, or something else?

Running fast times makes the training worth it, but also having the team around you makes it worth it since the team is very fun.