The Voice of "Big Bird" and "Oscar the Grouch": In Memory of Caroll Spinney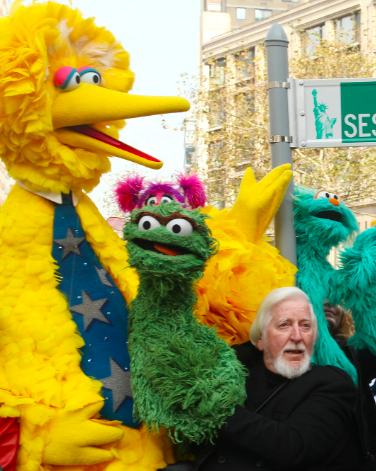 For almost 40 years, December 8th has been a day on which a legend passed away, that being John Lennon, who passed away on December 8th, 1980. Now, 39 years later, we have lost another legend, who must never be forgotten, though it may not be who you think it was. With the sudden death of the far more famous rapper Juice WRLD on the same day, this man's death was completely overshadowed. However, I hope that this article brings him into some sort of spotlight because he deserves it.
His career can be categorized by obscurity. Indeed, he could walk down the street every day and no one would recognize who he was. Yet, he brought joy and fun to millions of children for nearly 50 long years. This man was Caroll Spinney, and he brought the characters of "Big Bird" and "Oscar the Grouch" to life with his voice and his puppeteering. He was one of the last few surviving members who worked on Sesame Street from its very beginning in 1969.
Spinney was born on December 26th, 1933, and throughout his childhood, he was fascinated with art and puppetry. After joining the Air Force and being discharged in his young adult life, he worked as a puppeteer for some small children's television shows. It was not until 1969 that he would meet Jim Henson, the famous puppeteer and the mind behind Sesame Street and The Muppets. Henson, surely impressed by Spinney, invited him to come to work on Sesame Street, which Spinney graciously accepted. The rest is history.
If you do not know how the characters in Sesame Street operate, many of them are puppets, controlled on strings or by a hand. Big Bird, however, is actually a giant suit that the actor needs to climb into and control. The Big Bird costume stands at a gigantic 8 feet and 2 inches tall, and Spinney himself was only about 5 feet and 10 inches tall. Therefore, he had to face the challenge of moving Big Bird using his hands and different wires. In order to move around the set, he had to use a monitor which was inside of the suit with him to see where he was going. Yet somehow, he was able to bring the character to life, not only by his movements but also by his incredible talent for voice acting.
Big Bird is a character everyone can recognize, teaching children that making mistakes is alright and about speaking one's mind. Oscar is the polar opposite, an entertaining character who hoards trash, and is constantly annoyed by everything around him. The fact that he was able to play two completely different, polar opposite characters is a testament to how talented Spinney truly was. He travelled all around the world, bringing his characters with him to entertain in live performances, bringing children joy through his characters.
Yet you may never have known who he was. Through it all, Spinney never wanted the fame and was satisfied with being unknown. He simply loved children, and he loved to see them happy. He was truly a selfless man who loved what he did.
Spinney retired at age 84, about one year before he would pass away, after an incredibly long career of success for Sesame Street. He was one of the last survivors of the original team behind the show. 
He passed into the next life in his home in Connecticut, and he leaves a massive legacy behind. Thank you to Mr. Caroll Spinney for your many years of service towards the youth of the world, and may you rest in peace forever, knowing that you have touched countless lives.