The Benefits of a Snow Day on Students' Wellbeing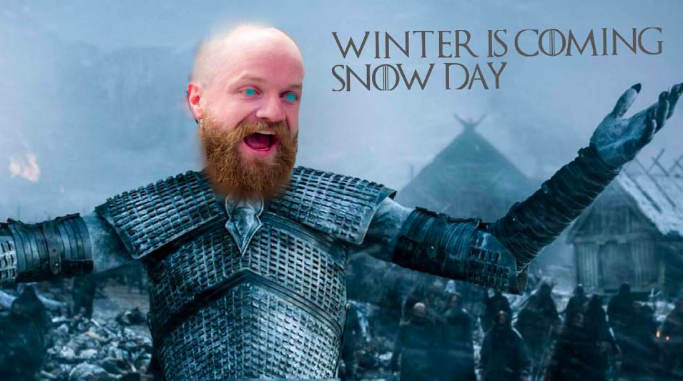 Just the other day, winter showed up in full force across the state of New Jersey. It began with large amounts of rain, turning to ice due to the frigid temperatures. The weather quickly evolved into snow, and what ensued were rumblings among Oratory's student body about a possible snow day, which we were then soon gifted in the evening. Everyone breathed a heavy sigh of relief. I hope to discuss in this article the benefits of snow days, and why Oratory should definitely give out many more snow days in the future. 
First and foremost, snow days keep Oratory's student body safe and sound. Driving down Interstate 78, I personally saw the effects of the harsh weather, spotting about 6 different instances of crashes along the road. People ended up in the woods or spun out on the side of the road because they were simply driving too fast. I would have been very fearful of driving myself to school in the horrible conditions, and I am sure most parents would be as well. Simply giving everyone off helps to prevent accidents and keeps everyone safe and secure.

Loading ...
Snow days also do not result in much class time being lost overall because of Oratory's system of giving out work to do on a day off. Therefore, there is no reason to be stingy with snow days because students will still be exercising their brains even when at home.
The last area of positives and the area that I am most interested in discussing is that snow days also have a large effect on a student's mental wellbeing. There are many different factors at play here, beginning first with the benefits of sleep. I do not need to explain why sleep is beneficial to us as humans, but especially during the winter, sleep helps keep us from falling ill, and also keeps us more alert and focused on what we are doing. Snow days are a perfect opportunity to get some extra rest. 
The other factor at play in the benefits of snow days is stress. Stress is not just a feeling, it is a very real problem throughout the world in the current day. Stress from overworking or just straight worry about everything going on in one's life can lead to many adverse effects, such as lack of sleep, headaches, fatigue, and even depression in some instances. Snow days, while they do involve work, are definitely far less stressful than a typical weekday and are the perfect time for students to take a breather and improve their moods. Playing out in the snow and just having a good hearty laugh are the perfect ways to reduce the amounts of stress hormones, such as cortisol and norepinephrine, which sit within our bodies and keep us simmering with stress.
Whether it be physically or mentally improving our health, snow days are the ideal solution. For any Oratory student reading this, enjoy your snow days and use them to spend time with your family and friends. For any Oratory staff member reading this, remember that the benefits of snow days are boundless. Hopefully, the next time we have a snow day, you remember to fully immerse yourself in all of the positives that a snow day can bring, and refresh and relax yourself to the fullest.