An Interview with OP Hoops Star Tyler Maloney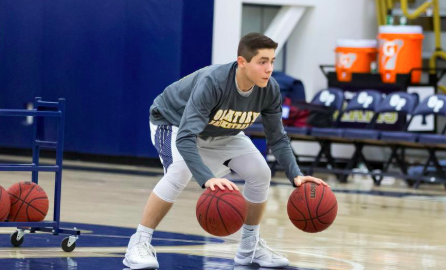 Recently, I had the chance to interview Tyler Maloney. Tyler is an OP senior who has been playing basketball for most of his life. During this interview, we are able to learn more about Tyler and his connection to the game.
How long have you been playing basketball?
I have been playing for 13 years.
Would you play basketball in college?
I would love to play basketball in college, unfortunately, I don't meet the usual height and speed requirements.
What is one word that you would use to describe yourself?
Intense. 
Was there a major influence that swayed you chose to play basketball?
No, not really. I always liked playing as a kid and my love for the game just grew as I got older. 
Who would you say is the biggest influence in your life currently for school and basketball?
I think it would be my dad. He has always been my greatest motivator both on and off the court. 
Do you have any pregame routines? If so what are they?
I just follow Coach Daugherty's team drills and then do some two-ball dribbling to make sure I have a good handle on the ball. Nothing too fancy. 
Do you currently have a personal goal (or goals) for this season? If so what are they?
I don't have any personal goals for the season, I just want to win. Whether I score a lot or a little, it doesn't matter. We moved up into a tougher conference this year so being able to win that would be amazing and I definitely want to get a shot at facing some of the bigger basketball schools in the state. 
Does anyone in your family plays (or has played) basketball? If so who? Did they have any impact on you playing?
Pretty much everyone in my family has played starting from the grandfather. So my dad, of course, was the first person to put a ball in my hands. He taught me how to make my first basket and he still shoots with me to this day.
Good luck to Tyler and the rest of the OP Basketball team as they prepare for an excellent 2019-2020 season.