Fall Sports Awards Night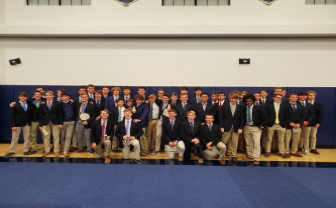 There are two Oratory programs that compete in the fall sports season. They were hard at work as early as the second week of August and have participated in a 3-month long season. Last night, all of the cross country and soccer students were invited to the fall sports awards hosted in the Dagaeta Gym. Athletes from all levels, including varsity, junior varsity, and freshmen, were recognized for their achievements this past season. 
For the first time varsity athletes, letters were distributed while returning varsity athletes also got the credit they deserved. In addition, junior varsity and freshmen team members were handed certificates. Furthermore, each set of coaches presented certain players with awards such as MVP, the coaches award, and most improved. For soccer, junior Marcelo Friere won MVP after contributing a team-high nine assists.  Senior Captain and defender Steve Fudenna was handed the coaches' award, and he has led the varsity team for a couple of years now and has always been the loudest on the field. Another man who has proven to be a big presence in defense is Owen Lines, and he was given the most improved player award. Freire and Nick Jardim earned themselves a spot on the all-conference first team list while Fudenna, Lines, and Jacob Cordeiro were recognized as all-conference honorable mention players. Also, Freire made it into the first team all-county squad, and Jardim was named in Union County's second team.
Regarding the cross country team, Senior Captain Max Russo won the most valuable runner award due to all of his efforts. He's broken OP records right and left, and is in fact still in season as the meet of champions takes place this Saturday, November 23rd. Senior Brain McKegney was awarded the coaches award and Junior Aidan Philbrick was handed the most improved runner award. Philbrick went from running a 23 minute 5k last year to shaving nearly six whole minutes on his time this year.
From beating rivals Summit to finishing the best ever at the Non-Public A Group Championships, both OP fall sports programs were filled with highlights. For how small Oratory is, the soccer and cross country varsity teams made the school proud this year and look to come back even stronger next year.