Most Surprising Offensive Players in the NFL
The 2019 NFL season has had many unexpected outcomes.  Some of these offensive threats have had prior injuries, some have legitimately come out of no where, and others have really come into their own this year.  Through ten weeks of the season, we are able to see who the potential contenders are going to be in February. A couple players listed below will be key for pursuing the Lombardi trophy, and the others will be crucial for the development of their struggling teams.
(all stats via ESPN)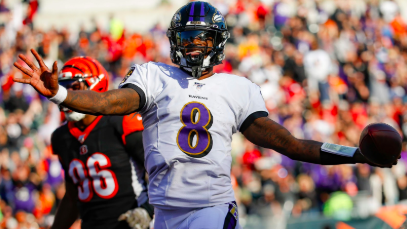 Lamar Jackson (QB – BAL)
Some call him the next Michael Vick.  Lamar Jackson has truly showed that he can be deadly carrying the ball or heaving it down the field.  After bringing the Ravens to the AFC Wildcard game and losing to the Chargers, many were unsure about the future for the rookie.  Lamar would have trouble throwing outside of the pocket, which made him almost one dimensional. He worked extra hard in the offense to tighten up his throws.  That has really seemed to pay off because he is now being considered as an MVP candidate. This year, Lamar has thrown for 2,036 passing yards, 15 touchdowns in the air, and only five interceptions.  Three of those came in one game against one of the best pass defenses in all of football, the Pittsburgh Steelers. On the ground, Jackson has 702 yards on only 106 carries (6.6 YPC) with 6 touchdowns.  Not a lot of people would have expected these astounding numbers. It is clear that Jackson has come into his own, and the Ravens are playing themselves into Super Bowl talks.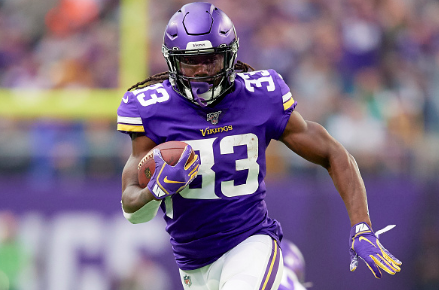 Dalvin Cook (RB – MIN)
After tearing his ACL in his rookie season, Cook showed glimpses of being a great back in the NFL.  Many held high expectations for him last year but battling injuries all-year took out Cook's full potential.  No one thought that Cook would be a top two running back this year. What Dalvin Cook is doing is historic. In ten games, he has 203 rushing attempts with 991 yards (4.9 YPC).  Very few backs in the league can average five yards per carry. Not only has Cook been the bell cow running back that Minnesota has wanted since Adrian Peterson, but he has also been relevant in the passing game.  He has made Kirk Cousins a much better quarterback. While he has no receiving touchdowns, Cook averages four catches a game, and his open field running helps move the ball down the field. There hasn't been one team to fully contain Cook or keep him out of the end zone.  He is a major reason the Vikings are 6-2 and have a solid chance at making a long postseason run.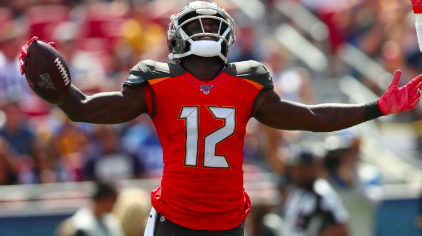 Chris Godwin (WR – TB)
Godwin made a name for himself last year, putting up 842 yards and seven touchdowns.  He was a very nice compliment to superstar wide receiver Mike Evans. This year in 9 games, Godwin has more receptions than Evans.  This season, Godwin has 840 receiving yards and six touchdowns. He has been a facilitator in that offense. He causes secondaries to shift their attention towards him, leaving Mike Evans more open.  The fact that Godwin has matched his yardage from last year in only nine games is very impressive. I doubt that anyone thought Godwin would ever have more receptions than Mike Evans. While Tampa Bay has not had much success this year, Chris Godwin has been a true bright spot.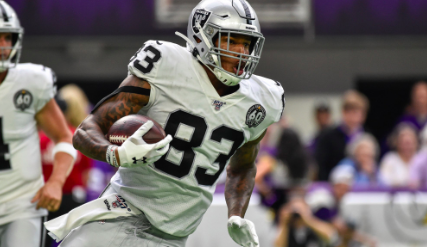 Darren Waller (TE – OAK)
Waller has gone through a lot in his life.  He had a cocaine and opiate addiction. This took him out of football after being released by the Baltimore Ravens.  Coach Jon Gruden of the Oakland Raiders saw a lot in the ex-Georgia Tech tight end. That was an amazing pick up, as Waller has shown that he could be a top five tight end in the league for years to come.  This season, Waller has caught 51 passes for 588 yards and three touchdowns. While the touchdown numbers are not that high, Waller is a constant mismatch against opposing defenses. Those 51 catches are very impressive in just nine games.  Waller has become the favorite target for Derek Carr in Oakland, and he has a very bright future ahead of him. Waller's story is very inspiring and he has completely turned his life around. He was given an extension for three years at around $9 million a year.